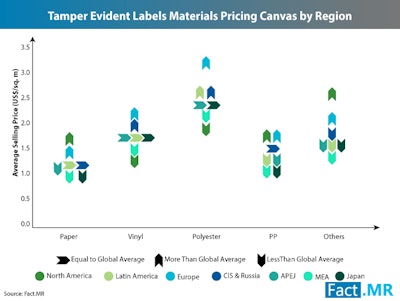 With FMD dates looming, industry experts continue to see steady growth in the tamper evident labels market, and new research expects record 1.6x volume growth through 2028. According to a new Fact.MR study, the tamper evident labels market is expected to surpass $7 billion by 2028 due to demand from the pharmaceutical industry.
The study suggests that key drivers include increasing emphasis on preventing pilferage and product labeling policies in the pharmaceutical industry for compliance, brand protection and consumer confidence.
As Fact.MR notes, "Buoyancy in the automotive industry is likely to complement demand from pharmaceutical industry. Fact.MR expects demand from automotive industry to grow at over 7% CAGR during the forecast period. Government recommendations on implementing tamper-evident features in automobiles, to address vehicular pollution, and establish improved vehicle identification number (VIN) operations continue to uphold the market growth."
The study estimates that the RFID and NFC tagged tamper evident labels will witness the most growth both in terms of value and volume against the backdrop of growing digitalization.
Though more the exception than the rule, "green" options are coming into play, with manufacturers such as the Mega Fortis Group launching environmentally friendly tamper evident labels.
The report cites the rapidly transforming retail landscape and manufacturers' shifting of focus to strengthening brand identity as a key driver for growth, specifically in the Asia Pacific region excluding Japan (APEJ).
News and innovations include:
CCL Industries, who recently completed the acquisition of Treofan Americas

In 2016, PPG launched Teslin label stock to expand the portfolio of tamper evident label range

In 2017, Covectra launched StellaGUARD security labels that meet the EU's Falsified Medicines Directive 2019 requirement
Download the full report here: https://www.factmr.com/report/2147/tamper-evident-labels-market