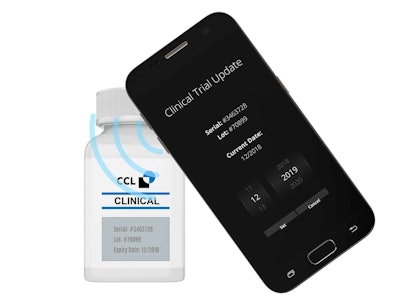 One animated video featured a 3D-like image of a heart inside a human's body, while another video demonstrated how a patient used his smartphone to take his medication and record it for his clinician during a dazzling presentation at a Monday morning Healthcare Packaging EXPO 2018 Innovation Stage Educational Session.
The presentation, "Electronic Clinical Label with Flexible Display," was delivered by John Bratton, Director of Coding Automation for CCL Label.
Bratton notes studies that indicate between 45% and 78% of patients receiving treatment for chronic conditions are classified as compliant, leaving a large portion of studies requiring extensions, at the cost of additional patients, time, or potentially the loss of the entire study.
To address non-adherence in clinical trials, Bratton described CCL Healthcare's newly developed "Adhere" digital platform that can be used as a stand-alone application via smart label by tapping NFC, scanning a 2D barcode, or paired to CCL's Electronic Clinical Label. Adhere employs a scalable platform that can check a clinical studies progress in real time, giving the power to improve all studies as they continue from start to finish.
Live notifications provide key indicators of non-compliance, diversion, authenticity and track and trace.
Companies in this article
Videos from CCL Healthcare, Div of CCL Industries