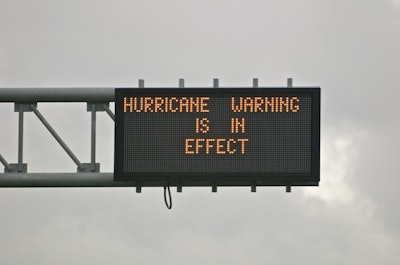 As of 9 a.m. Sept. 13, the National Hurricane Center update indicated that Hurricane Florence was about 275 km (171 miles) East/Southeast of Wilmington, NC, and 345 km (214 miles) East of Myrtle Beach, SC, packing maximum sustained winds near 110 mph. The site warned: "Life-threatening storm surge and rainfall expected," with "heavy rainbands with tropical storm-force winds spreading over the North Carolina outer banks."
Florence's expected devastation led The Centers for Disease Control and Prevention on Sept. 12 to activate its Emergency Operations Center (EOC) "to coordinate 24/7 all CDC activities for public health needs before, during, and after Hurricane Florence, including the deployment of resources and personnel, as requested." More information about CDC and U.S. government activities related to Hurricane Florence are available here.
FDA offers information here on food safety, power outages, flooding, and how to save undamaged food packages exposed to flood water.
Visit this site for information on the impact of severe weather conditions on biological products and vaccines requiring refrigeration or frozen storage.
The agency also provides informational links on natural disaster preparedness and response for drug products, including the following:
• Keeping medicines safe (and video)
• Safe drug use after a natural disaster
• Information regarding insulin storage and switching between products in an emergency
Weather forecasters are also tracking three named storms and two areas of possible development in the tropics. Next up: Isaac.
Companies in this article