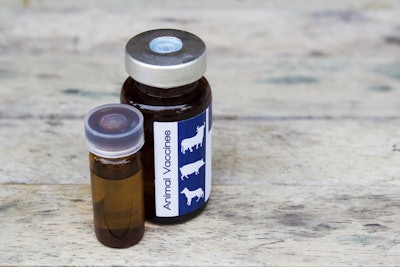 The U.S. Food and Drug Administration has issued draft guidance for industry, "Distributor Labeling for New Animal Drugs," that describes issues the agency considers when deciding whether to take regulatory action on new animal drug distributor labeling that differs from the labeling approved as part of a New Animal Drug Application or Abbreviated New Animal Drug Application.
"Distributor labeling" is labeling used by a distributor that markets the product under its own label, rather than the label of the drug application holder. The FDA reviews and approves animal drug labeling as part of the new animal drug approval process, but does not typically evaluate and approve distributor labeling.
FDA regulations require distributor labeling to be identical to the labeling approved in the drug application, with some exceptions: the distributor may change the name of the product to one that is "different and suitable" and the label must carry the name and address of the distributor, preceded by an appropriate qualifying phrase as permitted by the regulations (such as "manufactured" or "distributed by").
Distributors often develop labeling for branding purposes that differs from the approved label's font, color, and graphics. These differences do not necessarily undermine public health, animal health, or the approval process—particularly when the differences are not false or misleading and do not decrease readability, alter the meaning, or otherwise inhibit the safe and effective use of the drug. This draft guidance describes the FDA's current thinking about what factors it will consider in determining whether to take enforcement action against distributor labeling that differs from the approved labeling.
Guidance documents represent the FDA's current thinking on particular topics, policies, and regulatory issues. While "guidance for industry" documents are prepared primarily for industry, they also are used by FDA staff and other stakeholders to understand the agency's interpretation of laws and policies.
The FDA is accepting public comments beginning on September 10, 2015. To electronically submit comments to the docket, visit www.regulations.gov and type FDA-2015-D-3056 in the search box. The comment period will close 60 days after it publishes in the Federal Register. While comments are welcome at any time, they should be submitted by the closing date for the FDA to consider in drafting the final guidance.
To submit your comments to the docket by mail, use the following address. Be sure to include docket number FDA-2015-D-3056 on each page of your written comments.
Division of Dockets Management
HFA-305
Food and Drug Administration
5630 Fishers Lane, Room 1061
Rockville, MD 20852
Companies in this article