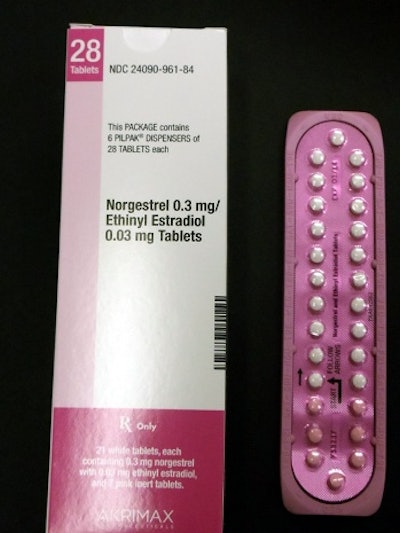 Packaging folks often lament that they are misunderstood. For example, when environmental concerns are discussed, packaging gets a bad rap as mere waste, as legislators and environmentalists overlook packaging's contributions to safety, marketing, convenience, and efficiency.
And as a cost item, packaging users don't always appreciate the necessary sophistication of package materials and designs. The vaguely insulting phrase, "It's just labeling," is too often used to convey a second-class status for the words and graphics on packaging. The active ingredients, validated processes, and complex software, those are what really matter, say some.
On the other hand, with packaging-related headlines that are so negative, who needs publicity? As with the recent Pfizer recall of birth control pills due to a packaging problem, it sometimes seems like the only news about packaging is bad news.
Pfizer's blister-packed birth-control pills were found in a small number of cases to have been packed with pills out of order, or with incorrect amounts of active-ingredient or inert tablets. An FDA press release said, "The cause was identified and corrected immediately." (Wouldn't it be interesting to know what it was?)
This might best be seen not only as adverse publicity for the company and product, but as a good reminder of the value of packaging. Too often considered a secondary afterthought, packaging, and labeling, should instead be properly viewed as integral to assuring drug product safety and effectiveness. Just as much as technologies to confirm the identities of chemical components, or to measure quantities with precision, or to assure you achieve the correct temperatures, pressures, and times needed for ingredient processing, packaging materials and placement of the product in the package are crucial functions. They are, after all, built into the FDA's Good Manufacturing Practices requirements along with controls for those other steps.
This is often a useful message about labeling specifically, because what you say about a product on its label is at least as important as what it is made from, for purposes of judging whether the product is safe and effective, the two key inquiries about drugs. The condescending use of the phrase "It's just a labeling issue" really is inapt.
After all, a drug product might only be considered safe for a given indication if its labeling contains specific dosing instructions or contraindications, or warnings--it's made just right, but needs those label statements to help assure it's used just right. Another product could be unlawful because its labeling touts an indication for which the product is not legally cleared-- again, it's made correctly, but claims to be useful for a disease or health-related condition FDA didn't OK, and for that reason only is considered misbranded or adulterated or an unapproved new drug.
It would not be an exaggeration to note that every aspect of packaging is crucial--the choice of safe and suitable materials to assure the product is properly protected from air, light, moisture, or contamination, for example; the proper handling of the packaging materials; proper filling; proper application of labeling information; and more--in the sense that getting them wrong has potential consequences to safety, effectiveness, and brand value that are as serious as any other hazard. You need only to think of the birth-control pill packaging problem to appreciate the hazards of packaging errors.
By Eric F. Greenberg, Attorney-at-Law,
Eric F. Greenberg PC
Editor's Note: The photo shown here is supplied by Pfizer and shows the correct packaging for its Norgestrel birth control product.