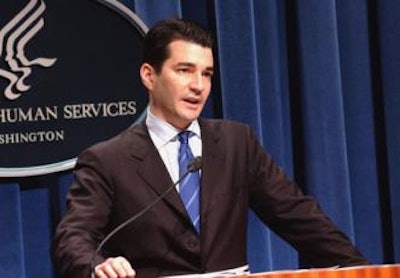 Dr. Scott Gottlieb penned an FDA Voice blog post yesterday emphasizing the need for taking "immediate steps to reduce the scope of the epidemic of opioid addiction."
Gottlieb, a physician and former deputy FDA commissioner during the George W. Bush administration, has voiced disapproval in the past for the FDA's excessive rules and their effect on stifling competition, as well as government efforts targeting companies that promote off-label uses for drugs.
In light of the opioid epidemic, in which overdose deaths have quadrupled since 1999, Gottlieb is looking to form new policies with staff and public input. His initial questions to the Steering Committee are as follows:
Are there circumstances under which FDA should require some form of mandatory education for health care professionals, to make certain that prescribing doctors are properly informed about appropriate prescribing recommendations, understand how to identify the risk of abuse in individual patients, and know how to get addicted patients into treatment?

Should FDA take additional steps, under our risk management authorities, to make sure that the number of opioid doses that an individual patient can be prescribed is more closely tailored to the medical indication? For example, only a few situations require a 30-day supply. In those cases, we want to make sure patients have what they need. But there are plenty of situations where the best prescription is a two- or three-day course of treatment. So, are there things FDA can do to make sure that the dispensing of opioids more consistently reflects the clinical circumstances? This might require FDA to work more closely with provider groups to develop standards for prescribing opioids in different clinical settings.

Is FDA using the proper policy framework to adequately consider the risk of abuse and misuse as part of the drug review process for the approval of these medicines? Are we doing enough when we evaluate new opioid drugs for market authorization, and do we need additional policies in this area?
It is yet to be determined what role packaging will play in FDA's attempts to stem the addiction issue, but smaller volume prescriptions or smart packaging could come into play.
As Bloomberg reported last week, Gottlieb was quick to act after his appointment, calling for a reorganization of FDA's 4,000 staff members from a general approach based on geographic region. Staff numbers are not expected to change, and employees will now work in one of six focus areas—pharmaceuticals, medical devices, tobacco, food, biologics and research—which according to Gottlieb's memo "will make our field programs more modern and responsive to today's threats and challenges, while making sure that we are taking a risk-based and science-based approach to our work."
Companies in this article