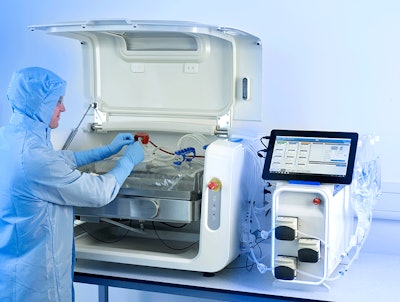 Earlier this year, the U.S. Food and Drug Administration (FDA) issued a draft guidance on quality considerations for pharmaceutical companies as they move to a continuous manufacturing process. The push to continuous processing in active pharmaceutical ingredients (APIs) and biologic drug manufacturing is predicated on the need to modernize the decades-old traditional "batch" manufacturing in which drugs are manufactured in multiple disconnected steps with testing delays and manual operations between them. Continuous manufacturing minimizes operational stops for a steady flow between processes that can ensure consistency, efficiency, scalability and a shortened supply chain that may even minimize drug shortages.
A move in this direction requires new kinds of equipment and technology. Pall, which provides high-tech filtration, separation and purification technologies for a variety of industries, is on the forefront of equipment that plays a key role in the development of life-saving drugs ranging from Ebola vaccines to cancer-curing monoclonal antibodies. Part of the effort of the organization is to help companies move to continuous bioprocessing, which will allow manufacturers to build flexible, multi-drug facilities.
But there are still some technology gaps in the continuous manufacturing process.
"We need new analytics and new automation technology," says Loe Cameron, Pall's Director of Analytics and Controls. "Because as you tie all of these individual unit operations together to act in an organized manner, you need real-time information for control strategies that balance the flow through the process. You no longer have time to take a sample and run to the analytics lab to make decisions. It all has to be online."
There's a similar need for new technologies to analyze and track data in the food and beverage industry given FDA directives such as the Food Safety Modernization Act (FSMA), which outlines good manufacturing practices, hazard analysis, risk-based preventive controls and more to prevent foodborne illness.
"If there's ever a pathogen in the food and an [FDA] auditor comes in for the data, if [the company] can't produce the data in 48 hours, they'll get shut down," says Travis Cox, Co-Director of Sales Engineering at Inductive Automation. That could mean losing millions of dollars a day. "All because they didn't have a digital strategy to capture that information automatically."
Whether it's regulatory pressure or a business requirement to keep up with consumer needs for new medicine or demands for a variety of food products and packaging, the movement to modernize manufacturing has made its way to pharma and food industries. It's actually an Industry 4.0 initiative that has hit these industry segments with the most important element being access to information and real-time analytics.
"Where Industry 4.0 comes into play in these industries is in accessing intelligent devices and coming up with intelligent analytics to help drive value back into the process, whether it is a higher throughput or quality to maintain competitiveness," says Dan UpDyke, Market Development Manager for Consumer Packaged Goods (CPG) and Life Sciences Industries at Rockwell Automation.
Though the basic core principles of Industry 4.0 apply (modularization, data exchange, cloud and cognitive computing), it is how Industry 4.0 technologies and practices are implemented that is important because they need to be compliant with the requirements of the particular industry.
Pharma 4.0
In biotech, there are many monoclonal antibodies that are coming off patent, which means there is more activity around biosimilars coming into the space. Biosimilars—almost identical copies of an original product manufactured by a different company—are influenced by the manufacturing process that takes place.
"There are so many specific things that impact how a biosimilar works in the end," Cameron says. "As things come off patent and biosimilar development increases, we are seeing a lot of people think about the process more deeply."
To that end, analytics need to be directly tied to the process and need to be delivered fast enough to establish control, Cameron says, noting that Pall is working on adding analytics into continuous single-use processes. "We are trying to find new analytical tools that are more online and purpose-built for this kind of paradigm," she says.
Pall's continuous process demo lab uses Inductive Automation's Ignition to connect equipment and analytical tools. "It gets the data where it needs to go and feeds directly into the historian," Cameron says. "Being able to quickly establish communication and prototype workflows saves us a lot of time as we are trying to develop new control strategies for continuous."
For example, operators used to pull samples to send to an analytical lab, with results delivered within a few weeks. Now, there's a move to put analytics directly into the manufacturing suite and hook these instruments into the centralized historian. "When information is digitized and closer to where the process is happening, there are all types of things you can do with it," Cameron says. "You can do multivariant analysis in real time, which enables advanced process control. And eventually the industry can move toward real-time release."
In another example of how Industry 4.0 technology is shifting the biotech industry, Rockwell Automation and GE Healthcare announced a collaboration that combines Rockwell technology with GE Healthcare's FlexFactory single-use biomanufacturing equipment. The goal of the collaboration is to deliver a flexible and scalable platform that enables pharmaceutical companies to manufacture smaller batches of tailored medicines. Specifically, the two companies will digitize batch files and processes to reduce review times by weeks. It will also enable them to deliver instructions to workers with augmented reality (AR) to improve batch execution, operations, and equipment setup and training.
"Mobile equipment doesn't [always] have an HMI present or great visualization," UpDyke says. "By providing digital work instructions through augmented reality, we can guide operators through connecting systems to make sure everything is correct. And in life sciences, it is important that all of that is captured in an audit trail by making sure connections are in the right place and put in an electronic batch record."
Though this application is specific to biopharma, "the concept of digital work instructions could be carried across all industries," he adds.
Using Rockwell Automation's FactoryTalk Metrics software, Rockline line operators are able to react to problems sooner. Source: Rockline
Food 4.0
Whether biosimilar or bourbon—digitalization is happening across industry. The technologies vary from AR to analytics to cloud computing, but the goal is the same—plant floor continuous improvement.
In an effort to keep up with demand for its bourbon whiskey, Jim Beam recently upgraded sections of its facility to maximize throughput while taking into account process constraints. Jim Beam was able to optimize control and decrease variability in the product by using Rockwell's Pavilion8 model predictive control (MPC), which adds a layer of intelligence on top of the basic automation systems. By maximizing feeds and manipulating steam and reflux flows, Jim Beam was able to decrease variability by 60 percent.
Rockline Industries, a CPG company specializing in disposable wipes, is also trying to keep up with demand in a germ-conscious world. To add to that, the wet wipes market is hyper-competitive, according to Frank Hacker, Director of Manufacturing, North American Wipes Division at Rockline Industries. To become more cost-competitive, Rockline started by taking a closer look at its production equipment.
"They were having performance issues on a line that was operating at less than 50 percent," UpDyke says. By applying Rockwell's FactoryTalk Metrics software, Rockline was able to provide accurate, timely, granular and specific information on machine production, performance and activities. An analytic model on the line pointed to problems with the raw materials—specifically, the capper on one of the cells was showing a significant amount of intermittent downtime, triggering stops on the line. By analyzing production data, engineers identified the raw material as the root cause.
"FactoryTalk Metrics allowed us to take advantage of all incremental capacity," Hacker says in a video. "Quality is also up because line operators can react to problems sooner."
Now, think about the ability to see performance data on not just one line, but across multiple lines or even multiple plants. That's what Procter & Gamble (P&G) is testing out as one of the first adopters of the GE Digital Predix Manufacturing Data Cloud (MDC).
It is a cloud-based platform designed to consolidate manufacturing data across plants for analysis. Used in concert with a traditional manufacturing execution system (MES), Predix MDC provides operational analysis in the cloud and greater flexibility of deployment, helping reduce the size of on-premise systems to make them run more efficiently. Predix MDC enables the consolidation of three data sets required for process optimization and analytical applications, including asset data, enterprise resource planning (ERP) data and manufacturing data.
P&G, which has been a long-time user of GE Digital's Plant Applications MES, recently conducted a pilot test of Predix MDC on three of its manufacturing sites.
"P&G is one of the first [companies] we've had using our brand new MDC product," says Steve Martin, acting CEO and Chief Commercial Officer for GE Digital. "We are really bullish on this product line, being cloud-based and addressing a bunch of needs in manufacturing. But it is particularly effective for organizations with multiple plants to get line of site on the performance of one location vs. another, and finding what the best practices are that are driving productivity in one area over another."
P&G, which has since expanded its initial pilot phase to include more manufacturing sites, is getting a detailed, data-supported view into its overall manufacturing processes. Plus, Predix MDC is helping the CPG company meet data compliance regulations.
There is so much data coming off of sensors, like vibration and heat, that helps analyze what needs to be done from an equipment predictive maintenance standpoint, according to Martin. "And the cloud aspect is not one to be overlooked," he adds. "To get that information into a web-based portal to do real-time location-by-location comparisons helps the customer monitor the systems and [gives] the data scientists real-time views into how to further optimize. We are getting closer to converging optimization and operations into a single layer, and the recommendations made to further optimize things can be immediately put into action. That's what we call closed-loop optimization."
Transforming batch
Digitizing data and applying analytics are perhaps the most important elements for moving batch processes into the era of Industry 4.0. But that means more people need to be able to access and understand the information.
"We need a way to leverage the expertise of data scientists," says Lisa Graham, Vice President of Analytics Engineering at Seeq, which provides industrial process analytics software. "Many of us are using Excel to wrangle data, but insight is lost. We need data analytics for the rest of us."
Seeq's software captures time series data from a variety of historians and other storage platforms and leverages machine learning and Big Data to add context around the information and deliver it up in an easy-to-understand dashboard report.
"It's a more holistic approach done in an IT-friendly way," Graham says. This allows engineers to interact with data to make better decisions. "The value of capturing the right information in a way that can accelerate drug development, for example, is the fastest way to get to market and at the same time improve quality."
Pall's Cameron agrees that easy analytics could be the biggest benefit for anything related to Batch 4.0.
"We are trying to find ways to add value to our equipment and bioprocesses without increasing complexity and possibly even simplifying things," Cameron says. "We are trying to make it all easier."
Companies in this article