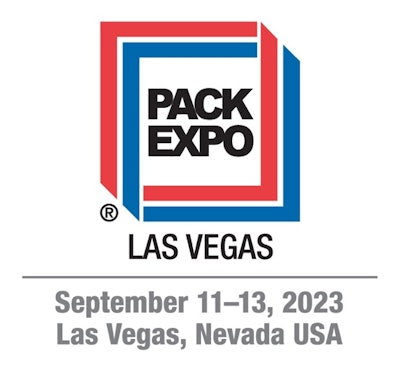 The program connects leading associations, dedicated to advancing the packaging and processing industry, with PACK EXPO attendees and exhibitors, bringing significant resources, insights, and expertise to the largest and most comprehensive industry event in North America this year.
The 15th edition of the show encompasses nearly 1 million sq ft of exhibit space. Exhibitors numbering 2,300 will showcase the latest machinery, new materials, technologies, and solutions to address the packaging and processing needs of 30,000 attendees from 40-plus vertical markets. With multiple free educational platforms and countless networking opportunities, the event will provide endless prospects for exchanging ideas and professional growth.
"The PACK EXPO Partner Program connects our attendees to leading associations from all segments of the packaging and processing industry," said Laura Thompson, vice president of trade shows, PMMI. "With more than 30 partners this year, making it our largest partner program to date, the breadth and depth of industry knowledge brought by these partners is unrivaled and is an invaluable resource to attendees and exhibitors participating in the show."
• 3-A Sanitary Standards
• AIM, Inc.
• AMERIPEN
• ASD Turkish Packaging Manufacturers
• Association for Roll-to-Roll Converters
• Australian Packaging and Processing Machinery Association Ltd (APPMA)
• CANAINCA
• Composite Can and Tube Institute (CCTI)
• Consumer Brands Association
• Contract Packaging Association
• F4SS – The Foundation for Supply Solutions
• Foil & Specialty Effects Association
• FPA – Flexible Packaging Association
• IBWA – International Bottled Water Association
• In-Mold Decorating Association
• Instituto Argentino del Envase
• International Society of Beverage Technologists
• IoPP – Institute of Packaging Professionals
• Koelnmesse
• MHI Automation Industry Groups
• National Confectioner's Association (NCA)
• OMAC – The Organization for Machine Automation and Control
• OPC Foundation
• PLCopen
• Reusable Packaging Association (RPA)
• SNAC International
• The Association of Plastic Recyclers
• The Cold Pressure Council
• The Tube Council
• U.S. Department of Commerce – Commercial Service
• World Packaging Organisation (WPO)
In addition to the Association Partner Program, PMMI has also partnered with international industry associations from across the globe to host international pavilions at PACK EXPO Las Vegas. International Pavilion Organizer Partner Associations include:
• Asia Eastern Media Company
• CCPIT - China Council for the Promotion of International Trade Machinery Sub Council
• CFPMA - China Food and Packaging Machinery Industry Association
• Confederation of Danish Industry
• Expotim International Fair Organizations
• Fundación Argentina para la Promoción de Inversiones y Comercio Internacional
• INP – Brazilian Plastics Institute/Think Plastic Brazil
• Italian Trade Agency
• Mouvement Des Entrerprises De France International
• PROMPERU
• UCIMA – Italian Packaging Machinery Manufacturers Association
From engaging with colleagues and hearing from industry experts to seeing materials, technologies, and machinery in action, attending PACK EXPO Las Vegas is the most effective way to explore packaging and processing solutions for every kind of product, entire production lines, and even the supply chain.
Participants can get the latest statistics on the show here, including daily registration updates as well as other key indicators about show progress.
Registration is $130. For more information and to register online, visit packexpolasvegas.com.
Companies in this article