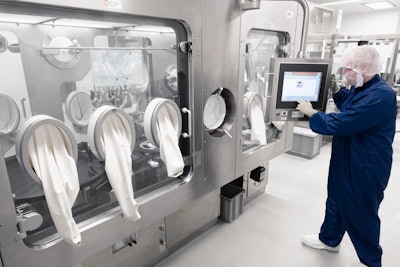 This content was written and submitted by the supplier. It has only been modified to comply with this publication's space and style.
Headquartered in Wilmington, N.C., Alcami, a major CDMO for the pharmaceutical and biotech industries, has facilities across the U.S., including scientific campuses in Charleston, S.C.; Research Triangle Park, N.C.; St. Louis, Mo.; and multiple locations near Boston.
From customized solutions for analytical development to clinical and commercial sterile fill-finish and oral solid dosage manufacturing, the CDMO covers a number of steps along the pharmaceutical value chain. Its comprehensive portfolio makes it one of the country's few standalone full contract service providers, offering packaging, microbiology, environmental monitoring, and pharmaceutical support services.
Alcami provides a broad range of customers with sterile filling operations for liquid and lyophilized products in a variety of containers, including 1 to 3 milliliter prefilled syringes and 2 to 50 milliliter vials. While its two campuses in the Carolinas provide redundancy and additional capacity, the Charleston site required additional capacity and scale to support its growing customer base.
Keeping up with an increasing demand
"Our customers' products support patients around the globe, and we have supported client projects in over 35 countries to date," says Sam Trimnal, senior director of quality at Alcami. "When we decided to expand our sterile vial filling capacities to keep pace with demand, we were looking for a flexible line concept that would allow us to easily switch between our broad format range of 2 to 50 milliliter vials and could be extended by further format ranges upon customer requests."
Alcami needed not only state-of-the-art equipment, but a solution that would integrate liquid filling and lyophilization technology in one line. Moreover, the entire setup required the latest isolator technology for the highest product and operator safety. Besides producing high-quality injectable drugs, meeting global regulatory standards, such as EU GMP Annex 1, is a key pillar of Alcami's manufacturing strategy.
"We knew this would pose a considerable challenge to any equipment provider, since we were looking for an especially high level of flexibility and regulatory compliance," Trimnal explains.
Finding the right partner
Alcami decided to partner with Syntegon, which specializes in packaging and processing technology and has a proven track record in both sterile filling and isolator technology. The global presence of more than 30 locations makes Syntegon an agile partner. "It was only logical to turn to a company that could deliver in terms of format flexibility and isolator expertise, while providing on-site support thanks to U.S.-based field service technicians," explains Tom Merola, director engineering & maintenance at Alcami.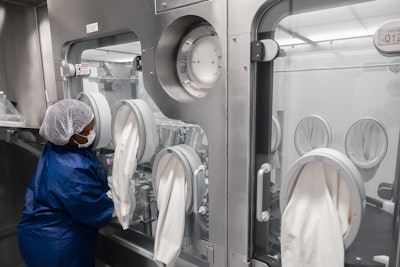 Alcami opted for a complete sterile vial filling line with isolator technology from Syntegon. The solution consists of an ARF filling machine with peristaltic pump filling technology and seven different formats for maximum flexibility, as well as integrated lyophilization and VRT capping technology, explains Stefan Schuh, associate director project management, Syntegon Technology. An HQL sterilization tunnel and upstream and downstream cleaning machines ensure the highest product safety.
The line's filling and closing platform ARF offers a versatile solution for industrial production of pharmaceutical liquids in vials on a smaller footprint. For Alcami, Schuh adds, the major benefit of the ARF is the machine's format flexibility, which allows easy switching between seven vial sizes to accommodate the CDMO's changing fill-finish requirements. Single-use filling components contribute to the machine's flexibility. Optional 100% in-process control (IPC) adds to safe, reliable results.
Safety at all times
Since safe processes are crucial for Alcami, the line comes with proven isolator technology from Syntegon. The barrier system effectively separates production areas and personnel, contributing to maintaining the highest hygiene and safety standards. The new isolator comprises modern air management and decontamination technology, as well as peripheral systems, such as airlocks, transfer equipment, and wireless glove testing.
Before entering the ARF, containers pass through an RRN internal cleaning machine for low and medium outputs. Dedicated stainless-steel pipes connect its cleaning stations to the cleaning media, leading to a hose-free cleaning area with reduced particle generation.
The vials with their particle-free interior are then transferred to the HQL tunnel, which provides sterilization and depyrogenation via dry heat. Following filling and capping, a RAN external cleaning machine cleans the vials' external surface. The design ensures that the vials' oversealed caps are protected throughout the entire process, maintaining the integrity of the products inside the containers.
Teamwork in Charleston
Despite its complexity and scale, the line was installed smoothly. "During the COVID-19 pandemic, we had to carry out many project steps virtually. At the same time, the [Syntegon] U.S. field service staff provided excellent on-site support, when needed. The cooperation and coordination between the teams were our secret to success," says Merola.
"Syntegon delivered an excellent turnkey line, including both filling and isolator technology, with a small footprint from a single source," Trimnal adds.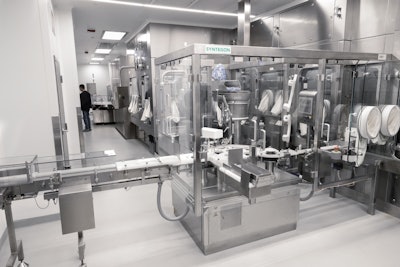 So far, the joint project has proven its worth. Alcami's new ARF isolator line is up and running, allowing the company to fill 2 mlliliter vials at an output of over 6,000 vials/hr, more than doubling the daily production volume in Charleston, while complementing four sterile fill/finish lines in North Carolina.
"This is a step change in Charleston not only for us and our customers, but for patients out there as well. As much as flexibility matters, so do long-term partnerships, which we are happy to take to new heights time and again," Trimnal concludes.
—Edited by Morgan Smith, contributing editor
Companies in this article