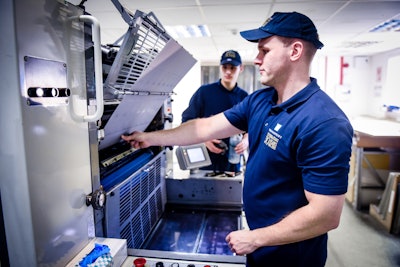 The COVID-19 pandemic has had a significant impact on industries and economies all over the world, and unsurprisingly one of the most affected areas is the pharmaceutical supply chain.
Using overseas suppliers is commonplace in the pharmaceutical industry. However, the Coronavirus crisis is causing longer lead times in logistics, which in turn presents the possibility of patients across the globe being deprived of time-sensitive medication.
Using a local supply chain during these times can be a solution to this problem, as local suppliers can be more reactive to the current demand and therefore reduce the possibility of a delayed lead time.
Technoprint, a UK independent supplier of information leaflets for the pharmaceutical industry, is currently takes part in the UK's pharmaceutical supply chain. Their printing facility, based in Winsford, is currently open for extended production hours of 6 am until 10 pm in order to meet increased demand and to ensure the continuous delivery of patient information leaflets—which lays a role in timely medication distributed for patients.
It is this pressing demand for getting products to market quickly that led to the creation of the company's 48HR Speed Launch priority service, which is designed to enable them to offer pharmaceutical companies a reduced lead time service for individual batches upon request.
Alan Ryan, managing director of Technoprint, says, "Whilst we may not be on the front-line of this pandemic in the same way as the NHS, we feel a strong sense of civic duty here at Technoprint in current times and recognise that we form part of a vital supply chain into the Pharmaceutical industry—a responsibility that we take very seriously indeed."
Ryan reports that the facility has created around 30 jobs for the local area in Winsford. The company keeps have robust hygiene standards throughout our facility, closely following the advice from Public Health England and has taken necessary measures to ensure that all staff are following the recommended government guidelines on handwashing as frequently as possible.
Companies in this article