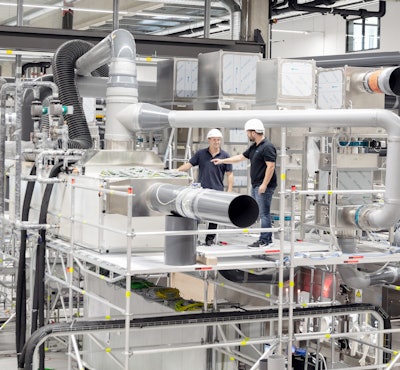 As COVID-19 spread throughout the world, companies banded together to produce personal protective equipment, vaccines, and treatments; supply chains streamlined needed machinery and materials. Prior to the pandemic, Catalent–a provider of integrated services, drug delivery technologies, and manufacturing systems to help life science innovators develop and launch successful pharmaceuticals, biologics, and consumer health products–had announced an expansion at its facility in Bloomington, IN, to meet customer demand and the projected growth of fill/finish within the industry.
In early 2020, the site was contracted by multiple pharmaceutical companies to provide vial filling and packaging of several vaccine candidates, some of which have since been authorized for emergency use by the FDA. The facility's planned expansion was then accelerated to bring additional capacities online sooner, which process was only made possible through the timely support and efforts of its suppliers, including Optima, Herma, and Rondo-Pak.
Vial lines in months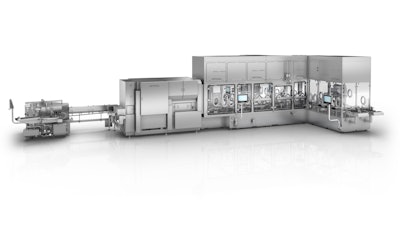 Catalent had ordered two vial lines before the start of the pandemic from Optima–a company that develops and builds filling, sealing, and process equipment for pharma, consumer, nonwovens, and life science products–which turned out to vital for vaccine production. While Catalent expedited its own planning and construction to bring the program forward by ten months, at Optima, both lines were given priority. This resulted in Optima accelerating a program to make new filling and closing machines, with isolators, for the Catalent facility.
Output on the first line from Optima was designed at up to 24,000 vials/hr, which can be achieved with 2R vials and ten-digit processing. The second line was made to dispense at a rate of up to 16,200 vials/hr into 10R vials. At the same time, high filling accuracy had to be achieved. Both lines were to operate with 100% in-process control and were to be equipped with Optima's isolator technology.
The two lines benefited from the fact that the isolator, filling, and closing machines were fundamentally aligned, from the mechanical fits to Environmental Monitoring Systems (EMS) to the electronics and controls. Outwardly, this can best be seen in the software integration of the isolator into the machine control system–all parts of the system can be operated via a central Human-Machine Interface (HMI). This is meant to greatly reduce potential sources of error, which, along with simplified project organization, yields considerable time benefits.
Comprehensive Scientific Process Engineering (CSPE) is another process employed by Optima Pharma to perform advanced virtual testing of the interfaces between the isolator, the filling, and the closing machine across different locations. In the CSPE center, both lines were set up complete with isolator. The entire unit was thus tested as comprehensively as possible during the Factory Acceptance Test (FAT), providing substantial time savings once the machines were installed at Catalent's facility.
In addition, Optima Pharma has a library of software modules that also function as a programing standard. These tried and tested modules were able to be used for many of the functions of both lines, and this also saved time; software development and configuration was done simultaneously with the system design. Frequent conference calls scheduled overnight, simultaneous work on the logistics side, air freighting, and efforts to accelerate process qualification all helped Optima finish the machines in time.
Wrap-around labelers for glass vials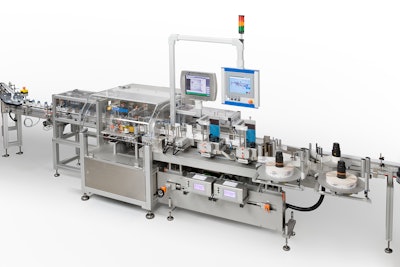 Herma–a producer of labeling machinery for industrial application, providing custom-manufactured labels, both unprinted or in a variety of print qualities–recently supplied Catalent Biologics with two precision, high-volume wrap-around labelers for the production of biologics, including COVID-19 vaccines. The initiative involved delivering the machines in 10 weeks, and ensuring they were fully validated and ready for production in another four weeks–a process that normally takes up to a year.
These wrap-around labelers were designed to meet the stringent requirements of round pharmaceutical and healthcare products, including glass vials produced in high quantities. The efficiency-minded modules are meant to offer optimizing features such as innovative rotary tables, digital position indicators and format sets that can be changed without tools for fast format changes, as well as operation of the entire machine–including the camera and printer–via an industrial panel PC (IPC).
Peter Goff, CEO of HERMA US, said, "A special project team was coordinated to expedite customer orders and fast track procurement of third party items such as printers and vision systems. This has allowed delivery times to be dramatically reduced, and allowed us to proudly assist with the worldwide drive to vaccinate the population as soon as possible."
Cartoning platform (plus hand bindery)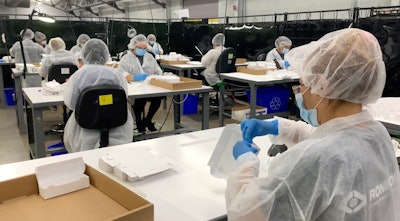 Rondo-Pak, a folding carton specialist, along with its sister company–packaging machinery provider Dividella, provided a cartoning platform for the Bloomington facility–with whom Catalent had had positive experiences in the past.
The NeoTOP cartoning platform from Dividella, designed as a high-speed, flexible cartoner suitable for a variety of vials and injectables was offered as a long-term solution. The cartoner can insert sturdy paperboard partitions to protect against glass breakage and can be paired with a variety of ancillary units, such as booklet feeders.
However, Catalent needed to supply 250,000 pre-assembled cartons, complete with 250,000 partitions, in a matter of ten days, which was not enough time to prepare the NeoTOP cartoner. To fulfill this order, Rondo-Pak's Hand Bindery team was brought in. Due to its close ties with Dividella, the Rondo-Pak team was able to make these cartons exact replicas of those that the soon-to-be-installed NeoTOP cartoner would be producing.
Rondo-Pak leaned on a team of 70 packaging professionals plus a large support team. At peak, the team was churning out over 11,000 completed cartons/hr, using custom tools to meet the same precise specifications required of sophisticated packaging machinery. The end result: packaging for millions of vaccine doses.
Companies in this article