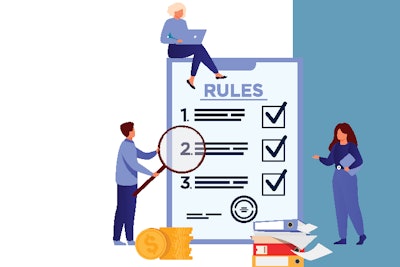 PMMI Business Intelligence: 2023 The Impact of Global and Local Standards on OEMs & Suppliers
For the uninitiated, machine standards can seem like a tangled web of red tape, but machine manufacturers need to untangle this web to ensure safety and compliance.
The decision about which regulations and standards apply to new machines rests solely with the machinery supplier and the component supplier, according to PMMI Business Intelligence's 2023 report, "The Impact of Global and Local Standards on OEMs and Suppliers."
Starting points in determining which regulations and standards apply to a project include the requirements of the customer and the destination of the machine.
Machines going to E.U. locations fall under ISO 12100:2010 Safety of Machinery—General Principles for Design—Risk Assessment and Risk Reduction. It's important to note that the American National Standards Institute's ANSI B155.1 Safety Requirements for Packaging and Processing Machinery is broader in scope than ISO 12100.
Therefore, the ANSI standard is recommended for equipment destined for E.U. as well as U.S. destinations. From there, a careful reading of the standard will help determine what requirements must be met.
These foundational standards also provide references to other standards that may impose additional requirements. Proper research and compliance depend on access to a library of standards.
It's not uncommon for a machine to be governed by one primary standard, as well as 10 related standards. Since many standards have been updated over the years, it is important to work with the most recent publication.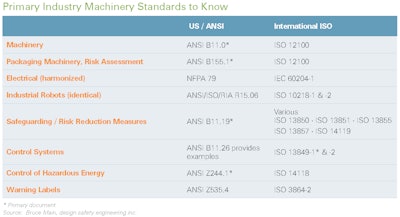 Saving time and money with machine standards compliance
Everyone is so busy trying to meet deadlines and build machines that meet performance objectives, it can be a huge challenge to take the time necessary to become familiar with the standards, determine which ones apply to a project, and map a path to implementation.
However, this knowledge can save time and money by ensuring compliance, preventing expensive design changes late in the process, and eliminating the potential negative consequences of noncompliance such as substantial fines, and in the worst cases, jail terms or significant civil liability.
Standards compliance needs to be part of the product development process to ensure operator and environmental safety and adherence to legal requirements as well as best practices.
Application Strategies
Management must be onboard with standards applications. One person should be responsible for implementing procedures, the product liability program, and overseeing the team. Copies of relevant regulatory and normative standards should be maintained and updated, as necessary.
Team members should include a combination of mechanical and electrical engineers, technicians, and sales, according to PMMI's 2007 Guide to the Key European Directives for Packaging Machinery – Fourth Edition.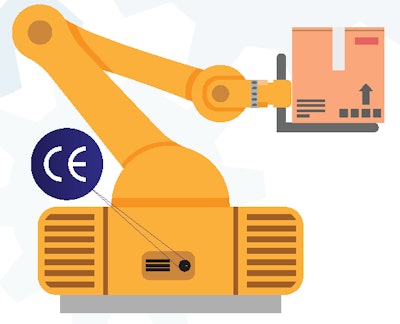 When working to achieve a CE Mark to qualify for European sales, for example, the standards team should learn, implement, and document the process to comply with the directives, perform a risk assessment, address the essential requirements list, and create the files required for qualification.
Documentation includes the Technical Documentation File, Declaration of Incorporation and/or Declaration of Conformity, the Hazard Analysis and Risk Assessment, and a list of the EHSRs of the directive that applies to the machine, the PMMI 2007 guide says.
It should be noted that machine design changes and upgrades need to be analyzed to see if they impact compliance. If so, parts of the Declaration of Conformity may need to be redone. Re-testing should be done periodically to confirm compliance, says the PMMI guide.
SOURCE: PMMI Business Intelligence, "2023 The Impact of Global and Local Standards on OEMs & Suppliers"
Download the FREE report below.
Companies in this article