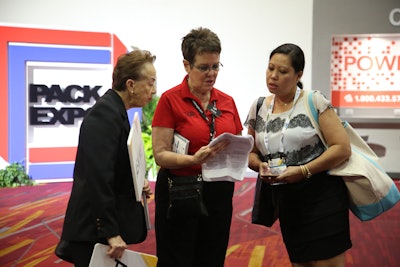 As the COVID-19 pandemic's grip loosens on society, in-person events are coming back, including PACK EXPO Las Vegas, which will take place Sept. 27-29 at the Las Vegas Convention Center. Effective June 1, Las Vegas returned to pre-pandemic guidelines, but to keep all attendees and exhibitors safe, efforts are being put in place, with updated health and safety protocols that meet current government regulations and industry standards. PACK Ready–PMMI's commitment to safety–provides a detailed list of protocols implemented by the Las Vegas Convention Center and show management.
With more than 1,500 exhibiting companies, PACK EXPO Las Vegas, co-located with Healthcare Packaging EXPO and produced by PMMI, The Association for Packaging and Processing Technologies, will welcome tens of thousands of people.
Through in-booth demonstrations and free education on the show floor, attendees will not only see technology in action and have the opportunity to talk with suppliers, they will also learn about best practices and industry breakthroughs. For example, Domino Amjet, Inc. will display its pioneering beverage can-coding solution. BluePrint Automation will demonstrate how its robotic carton loader can eliminate racetrack collation and potential jam points, increasing line efficiency. Plus, Quadrel Labeling Systems will display its distillery front/back/wraparound labeling system, featuring a three-panel design for the needs of small, growing companies requiring rugged reliability at a modest price.
Can't-miss seminars
Returning on all three days of the show are free, educational, 30-min Innovation Stage seminars, showcasing breakthrough technologies, best practices, and case studies, presented by industry experts. Topics will include connecting your supply chain network to build resilience; continuous improvement success, based on stories from 700 food, beverage, and consumer packaged goods (CPG) manufacturers; and Industry 4.0 and digital transformation best practices.
The interactive Forum will also be returning with 45-min sessions, which begin with short presentations, delivered by topic experts and OpX Leadership Network members, on the latest industry trends, followed by roundtable discussions with peers on topics affecting many packaged goods companies. Keep an eye out for the sessions listing which will be released soon.
Bringing the healthcare industry together
A definite can't-miss is the Healthcare Packaging EXPO located in the Lower South Hall of the Las Vegas Convention Center. Innovators from top pharma companies will be exhibiting at and attending the show. Some companies who recognize Healthcare Packaging EXPO as a leading show for their packaging and pharma production needs are Amgen, Biogen, Fresenius Medical Care, Pfizer, and Sanofi.
Full-scale machinery will be on display with demonstrations throughout the hall along with latest advances and solutions in packaging and processing within the pharma industry. Exhibitors will offer a range of solutions for the pharmaceutical supply chain, including anti-counterfeiting, cleaning and sterilization, cold chain logistics, serialization/track and trace, and tamper-proofing.
Also at the show
The PACK to the Future interactive exhibit debuts this year, showcasing the industry's past, present, and future. It will display curated items and machinery from some of the world's largest CPGs and packaging companies. Industry experts, futurists, and business and financial leaders will speak daily on where the industry has been, where it is now, and what the future holds for packaging and processing. Sessions will be broken into 30-min increments on advancements, such as artificial intelligence, sustainability, and more.
The Reusable Packaging Stage, hosted by the Reusable Packaging Association, will show how implementing a reusable packaging system can improve material handling performance, reduce operating costs, create new economic values, and lower environmental impacts in the supply chain. The information will be conveyed in company presentations, product demos, case study findings, and industry panels.
The Future Innovators Robotics Showcase will feature student teams from Las Vegas-area high schools demonstrating creations they designed and built, reflecting how the next-generation workforce is driving innovation. Attendees and exhibitors are encouraged to see the robots these bright students built, watch the demonstrations, ask questions, and talk with them about the field.
A final can't-miss event is the Cold Pressure Council Annual Conference (Sept. 28-29), which will take place in conjunction with PACK EXPO Las Vegas and Healthcare Packaging EXPO, offering education on the latest in high pressure processing (HPP) technologies. All registrants of this conference will receive complimentary registration to PACK EXPO Las Vegas and Healthcare Packaging EXPO.
Attendees are invited to download the free PACK EXPO Las Vegas app to organize their schedules, so they can participate to the fullest. It includes all the features of the My Show Planner on the PACK EXPO Las Vegas website at www.packexpolasvegas.com. The app allows users to create a personal itinerary for navigating the show by simply clicking on an exhibitor or session and adding it to their schedules, along with their personal appointments. Attendees can use the app to search for exhibitors by name, keyword, vertical market, or category. They can also search for educational sessions by venue or topic. In addition, the app includes interactive floor plans, exhibitor messages, event reminders, shuttle bus schedules, frequently asked questions, news, and notifications.
The registration fee, which includes access to both PACK EXPO Las Vegas and Healthcare Packaging EXPO, is $30 until Sept. 3, after which it increases to $130. For more information and to register online, visit packexpolasvegas.com.
For those who are unable to attend in person, PMMI now offers virtual aspects of the live event via PACK EXPO Xpress, where you can search for products and innovations in digital showrooms and connect with solutions suppliers during the event no matter where you are.
Companies in this article