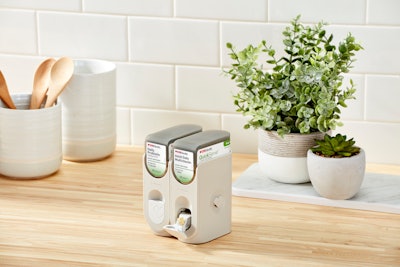 With its new vitamin dispensing system, CVS Pharmacy is putting patient adherence and medication access front-and-center with a new countertop design that can be opened with a fingertip.
The CVS Health QuickServe™ Vitamin Dispensing System is comprised of two components:
A reusable dispenser base
Individual, pre-filled vitamin and supplement QuickServe cartridges
The consumer assembles the system in simple steps with illustrations noted on the outer carton: open and remove the cap and safety seal from the cartridge and attach the base to the cartridge.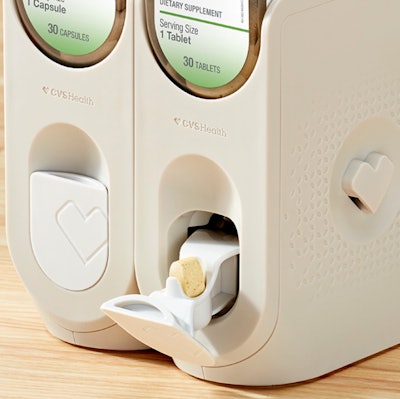 The consumer can quickly access a vitamin by opening the door with a fingertip after which a single vitamin is presented in the slot. The door features a divot for easy opening. The system is designed so that the cartridge label remains highly visible on the front, so consumers know what vitamin or supplement they're accessing and the serving size.
"At CVS Health, we design for our customers and aim to simplify routines by innovating streamlined solutions. Through research, we learned that our consumers are looking for a better way to organize taking vitamins and want them to be visually accessible to help remember to take them. We wanted to develop a system that makes taking vitamins and supplements simple and easy to access to help consumers stick to their supplement routine," says Heather Corkery, executive director of store brands.
A recent consumer survey conducted by CVS Pharmacy found that 75% of respondents have forgotten to take vitamins and supplements in the past year, with two out of five people indicating they forget at least once a week. Nearly half of vitamin and supplement takers surveyed say they'd be more likely to remember to take vitamins/supplements if they were on the kitchen or bathroom counter.
"With the countertop design, consumers are more likely to remember to take their vitamins if they are out in the open, ultimately increasing adherence and expanding on their daily regimens," says Corkery. "The QuickServe dispenser base is currently available in one neutral color to fit naturally into the aesthetic of your home."
While specific component material details are not available as of press time, she notes, "The QuickServe dispenser base is made of heavy plastic and is intended to be used over time with replaceable QuickServe vitamin cartridges. The vitamin cartridges are made from a lighter plastic and may be used with or without the dispenser."
A starter kit is available which includes the QuickServe dispenser base and a 30-day QuickServe vitamin or supplement cartridge; the base dispenser and cartridges are also sold separately. "For added convenience, you may attach several bases together to create a larger set of all the vitamins and supplements you want to consume in a day," she adds.
Related reading: Identify When to Bring Human Factors Into Projects
Design for the system was focused on ease of use for daily adherence, and Corkery says they're excited about delivering a new way to take vitamins and supplements. "Through creative engineering, we were able to develop a system to dispense one pill at a time without jamming," she explains. "The dispensers can be joined together through the heart connector [on the side] to create a personalized set for your countertop to help keep all the vitamins and supplements you take in a day neatly organized in one place. The dispenser base is reusable, making it easy for customers to only have to repurchase the vitamin cartridges."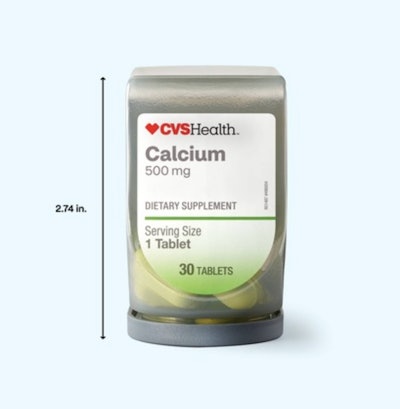 The system was launched online by CVS Pharmacy on April 14, 2023, and is officially available in select CVS Pharmacy locations as of May 12. Currently, the QuickServe system can be purchased with Calcium, Daily Multivitamin, Daily Probiotic, Magnesium, and Turmeric + Black Pepper cartridges. Later this year, the company plans to launch additional vitamins and supplements.
Companies in this article