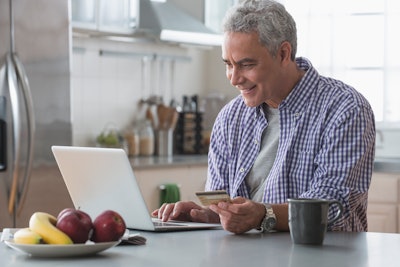 According to the 2019 PMMI Business Intelligence White Paper "Senior-Friendly Healthcare Packaging," 60% of people globally over the age of 50 have purchased products online, which means the population of "senior" e-commerce consumers is rising. The pharmaceutical and medical device markets are also growing in the areas of e-commerce and online ordering, including online pharmacy space with customized packaging and automated refill services.
Ordering healthcare products online can have a positive effect on compliance with medications. The online space allows for a more customized ordering process, with some companies offering personalized packaging that pre-sorts medications into convenient daily dosages. Medications are filled and packaged on a customer-by-customer basis, either by the pharmacy itself, or a third-party contractor. In addition, many emerging online pharmacies are offering automatic refills or automated refill reminders, keeping track of a customer's medication supply. One senior director of packaging at a leading retailer is looking to the OEM to help find ways to provide end of line custom labeling solutions, and says, "We want to apply a label at the last minute for customization of the package with simplified changeovers for individual labeling needs."
Delivery has some notable benefits in addition to convenience for the senior population, especially when it comes to compliance. Delivered products from a pharmacy raised compliance rates over 30% - from 56% compliance for pharmacy visits, to 88% compliance for pharmacy deliveries. Smaller, independent pharmacies have been offering delivery services for decades. According to a 2017 study conducted by NCPA Digest, approximately 70% of all independent pharmacies offer some form of delivery. And when the data behind what services customers look for in a pharmacy is examined, 94% of customers say that convenience is the top consideration when choosing a pharmacy.
The trend of delivered pharmaceuticals and medical devices is beginning to expand outside the traditional market space of independent pharmacies. As delivery and online ordering become more commonplace in all consumer goods industries, the largest players in the healthcare industry are now beginning to offer some form of delivery service. As of 2019, CVS, Walgreens, Walmart, and Costco have all introduced programs for online healthcare product ordering, personal delivery of healthcare products, or in most cases, both.
Much of the growth in this space has been spurred on by Amazon's headline-grabbing purchase of the online pharmacy PillPack in 2018, which has potentially far-reaching implications for the larger healthcare network and its expansive system of providers and ancillary services.
Before being purchased by Amazon, PillPack had carved out a niche for itself by pioneering the online pharmacy space with customized packaging and automated refill services. Amazon has been quiet about goals and intentions of the acquisition, but there are a few clues that point toward a potentially drastic realignment of players in the healthcare supply chain.
Starting in 2019, Amazon began targeted offerings of the PillPack service with free delivery to select Prime members, focusing on a suite of medications for chronic conditions. So far that has been the extent of Amazon's usage of the PillPack model, but the intent could be to eventually expand this into a much bigger business by making it available to all active Prime members in the future. With a major player like Amazon entering the online pharmacy market, seniors in the future may find e-commerce the most convenient way to order medications.
Download your FREE copy of this 24-page white paper here.
Make plans to visit PACK EXPO East in Philadelphia, March 3-5, to see on-trend healthcare packaging machinery and materials.