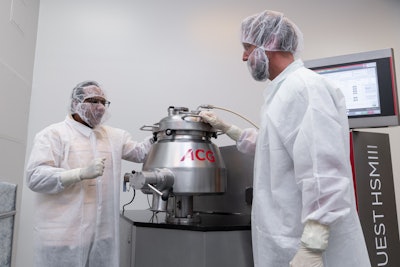 Metrics Contract Services (Metrics), a contract development and manufacturing organization (CDMO) specializing in oral dosage forms, has completed the installation of a high shear mixer from ACG Engineering, at its facility in Greenville, North Carolina. A division of Mayne Pharma, Metrics is utilizing the Quest HSM III granulator to assist in transitioning formulations from initial development to the process validation stage and, ultimately, to commercial production.
ACG Engineering is one of four business units of ACG Group, an integrated pharma manufacturing systems company. The Quest HSM III was developed jointly with Xertecs, ACG's European Innovation and Design Centre. The Quest HSM III is designed to incorporate 12-bar pressure shock resistance and ACG's X-One Command process control system. Designed to facilitate compliance with cGMP standards, the Quest HSM III features what are meant to be interchangeable process bowls of 15, 30 and 65 liters providing a wide range of batch sizes and torque measurement instrumentation for process end point determination.
This granulator further expands Metrics Contract Services' portfolio of manufacturing and service capabilities including pharmaceutical formulation development, preclinical and Phases I-III clinical trial materials manufacturing, and comprehensive analytical testing. A Stability Center is used to help ensure product efficacy and commercial manufacturing.
The ACG mixer/granulator features a multi-blade chopper and Z-shaped impeller intended for better granules and shorter process times, and the machine's sealing concept is made to lessen the need for compressed air. The unit is designed to be both ergonomic and safe: its wrap-around design is supposed to make all crucial components accessible to operators, while its patent-pending Maximum Operational Safety Technology (MOST) offers user protection.
"The ACG Quest HSM-II Granulator imparts flexibility to use three different size bowls, to accommodate granulation batch sizes from 3kg to approximately 25kg," says Brad Gold, Vice President of Pharmaceutical Development for Metrics Contract Services."Moreover, its slip ring technology affords us the ability to measure the force acting on the rotating impeller shaft. It provides a sensitive measure of granulation endpoint and, just as important, provides scale-up data during tech transfer."
For Metrics Contracting Services, the granulator is part of MaynePharma's recent $80 million investment in the Greenville site. Infrastructure upgrades include a 126,000-sq-ft, oral dose commercial manufacturing facility adjacent the existing plant, constructed to allow the original space to grow its contract analytical laboratory, formulation development, and CTM services capacity. The company intends the expansion to offer customers a complete concept-to-commercialization system in a single, contiguous site.
Companies in this article