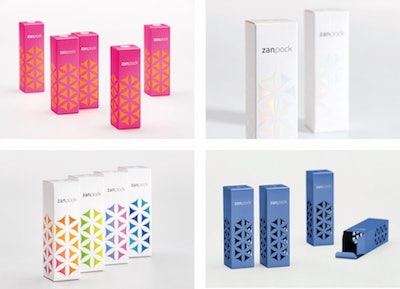 Zanders has expanded its Zanpack portfolio: high basis weights of 450 gsm in Zanpack silk (one-side, double-coated) and Zanpack silk2 (double-side, double-coated) as well as 490 and 550 gsm in Zanpack silk2 are now available.
These are particularly suitable for cosmetics and pharmaceutical packaging as well as for premium quality confectionery, food and beverages and non-food items. In common with the previous gram ranges from 180 gsm, the high basis weights also have a smooth and silky surface with an attractive appearance and a pleasant feel.
The Zanpack portfolio comprises five varieties. In addition to Zanpack silk and Zanpack silk2, Zanpack touch features an uncoated surface with a grainy feel. Zanpack touch is for brands intended to emphasize their natural, alternative orientation or to avoid glossy packaging to stand out from established products. Zanpack silk digital is for short, premium quality production runs, and the solid-colored Zanpack tinted board. All Zanpack grades are FSC®-certified.
Zanpack tinted board is a gray solid-colored pulp board with a dark blue back and a white double-coated front, available in 265 gsm.
Companies in this article