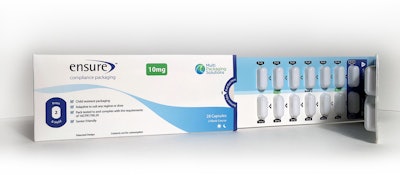 Multi Packaging Solutions, a global provider of value-added print and packaging solutions for the healthcare, branded consumer and multi-media markets, has extended its range of child-resistant packs.
These patented designs offer maximum flexibility and can be customized to suit product type and machine filling requirements. A wide range of design options and configurations are available up to the highest F1 child-resistant rating.
This range of new designs offers pharmaceutical customers something innovative, practical and effective. The packs, which can be compatible with existing manufacturing processes, harness MPS's constructional design skills to offer the market more options. Consumer safety and the prevention of accidents are priorities for the industry so these packs are designed help provide both reassurance and peace of mind.
The new range of packs visually resembles standard folding cartons but is made from tear-resistant paperboard. They incorporate unique locking features that help to prevent children from accessing the pack's contents while still allowing senior consumers easy access. For convenience and ease of use, the pack remains together as one-piece when opened and will automatically re-lock when closed.
The company says it is important for brands to help safeguard consumers against unintentional accidents by dispensing powerful medicines in packs that restrict access to children whilst offering clear communication for patient compliance. These packs can incorporate compliance features within the artwork and are compatible with many different products including blisters, tubes and vials.
Companies in this article