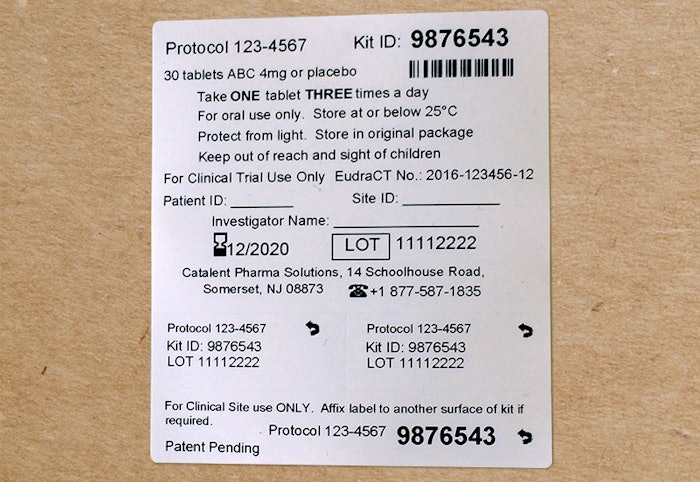 Catalent Pharma Solutions, a global provider of advanced delivery technologies and development solutions for drugs, biologics, consumer health products and global clinical supply services, introduced its Peel-ID™ label for clinical supply labeling that helps to reduce the risk of patients receiving the incorrect medication at clinical sites.
The patent-pending clinical label comprises a permanent portion, and a peel-off label containing the patient kit identifier, which can be removed by site personnel and affixed elsewhere on the patient kit to better facilitate storage, inventory management and quick retrieval. Peel-ID labels are designed and printed in-house by Catalent and are available in a variety of standard sizes and designs to fit most patient kits.
The Peel-ID label was developed in response to some sites manually writing kit identification numbers on an unlabeled side of a package, because the label is obscured due to the way the kits are stored. With a Peel-ID label, the risk of human error resulting from the incorrect kit being pulled from inventory due to illegible handwriting or incorrectly transposed numbers is greatly reduced.
The company's clinical site liaisons recognized the potential for harm from this practice and engaged its employees to develop an innovative and practical solution. Peel-ID is now the standard recommendation to customers for all patient kits packaged by Catalent, reducing risks to patient safety.
Peel-ID label gives clinical sites increased flexibility in their storage options while being confident that an integral, approved label can be used on any surface of the kit. This could streamline the dispensing process for patients at sites that hold considerable stock, and those that undertake a manual transcription process can be confident in a reduced risk of errors.
Companies in this article