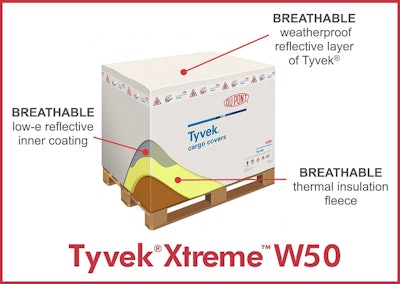 DuPont has extended its range of Tyvek® cargo covers with the new Tyvek® Xtreme™ W50.
Fitted with a proprietary insulative layer, Tyvek® Xtreme™ W50 retains the reflective and permeability characteristics of theexisting Tyvek® Cargo Covers for pharmaceutical products while extending both thehot and cold temperature performance span. The result is the product can be used in CRT categories where there is a need for frost and heat protection as well as an effective component in packaging systems for "cold" temperature products.
Designed to "bridge the ga"' between single-skin thermal covers and bulky thermal blankets, the Tyvek® Xtreme™ offers reflective performance of Tyvek® combined with the new product's mass thermal barrier that creates a protective envelope marrying exceptional performance with affordability.
By introducing a "thermal flywheel" effect, the new insulated cover is particularly suitable for intercontinental CRT freight lanes, especially those with transient exposures to very low ambient temperatures and in cases where there is a potential for sizeable temperature swings.
By combining a low-emissivity silver lining and highly reflective outer surface with an efficient thermal layer, the new cover performs both as a radiant shield and a conduction barrier. It has also been engineered to be vapor-permeable yet fully weather-resistant, allowing protected pallets to evacuate condensation by "breathing" while also providing dependable protection from rain, snow and wind.
The new Tyvek® Xtreme™ Cargo Cover is a reliable option when it comes to protecting room-temperature pharma products. It is also designed to provide supplementary thermal protection to passive containers and to rigid, uninsulated ULDs as a component part of qualified systems."
The special fleece layer used in Tyvek® Xtreme™ is more robust than some insulants. The Tyvek® Xtreme™ comprises a strong, continuous-filament, fibrous insulation layer laminated to a tough overlay of non-woven Tyvek® material. This configuration is better able to maintain its thermal properties and withstand physical manhandling than thin plastic film and bubble-based alternatives.
Tyvek® Cargo Covers are strong, tear-resistant, light in weight and very fast to fit. They provide tamper-protection, are fully weather-resistant and offer an effective barrier against air-borne contamination such as dust, pollen and bird droppings. Tyvek® covers are available for the majority of standard air freight pallet sizes and are very quick to install and remove. A typical pallet or ULD can be protective-sleeved in as little as sixty seconds.
Companies in this article