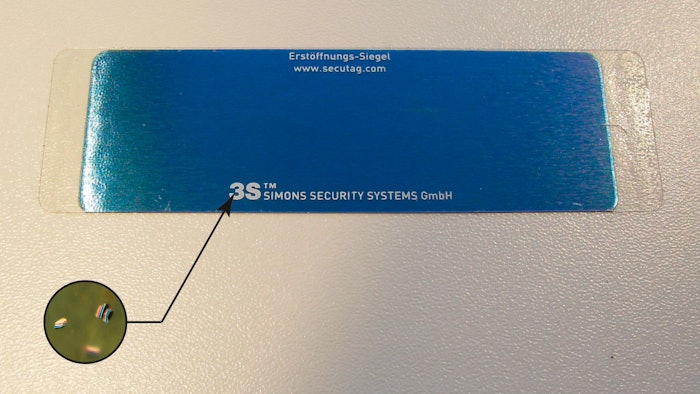 3S Simons Security Systems GmbH has developed the OTF security label specifically designed to protect security-relevant devices and premium packaging used for quality products. The advantage of the new closure seal: It is based on Secure-ID® technology and can be completely removed without leaving any residue behind. In contrast to Void films, adhesive residues that might contaminate the protected device are thus avoided. Only a gentle push or a slight increase in temperature will cause the OTF security label to show number strings, logos, or different visual elements so that any attempt to tamper with a device or packaging is instantly identified.
Based on the counterfeit protection system SECUDATA®, micro color code particles were also added to the label enabling identification of originals. This anti-forgery measure can be combined with traceability systems, such as data matrix or RFID. That way, 3S ensures seamless security along the entire supply chain.
Void labels used to be applied in order to document unauthorized opening of devices or original packaging. The word "void" appears when removing this type of label. The disadvantage of this method: Sticky residue may stay on the device and contaminate it. This especially applies to leased devices.
Based on Secure-ID® technology, the new OTF security label allows for complete removal of the labels without leaving any adhesive residue. Number strings, logos, or different visual elements are embedded in the opaque thin film, which remains completely invisible until activation. By a gentle push or a slight increase in temperature (e.g., if someone tries to remove the seal using a hair dryer), these elements will become visible so that tampering with devices can be instantly detected. Premium packaging for quality products (e.g. watches, jewelry, perfumes, consumer electronics) can also be secured sustainably when using 3S' new solution for opening protection.
Protection against unauthorized opening is just one of the many aspects involved in OFT security labeling: On the basis of SECUDATA®, 3S' solution for counterfeit protection, micro color code particles are compounded in the security label allowing for identification of originals. These particles are made of melamine alkyd polymers, manufactured in different sizes beginning at eight micrometers (µm). Color-code protection is invisible to the naked eye. However, a standard pen microscope suffices to identify the code. The code consists of four to 10 different color coatings layered on top of each other. The layers are prepared with normal, ultraviolet, or infrared colors and are temperature and chemical resistant. The color-code system has been forgery-proof for over 15 years and is therefore accepted as evidence by courts.
Each customer using the OTF security label receives his own unique micro color code providing definite proof of authenticity. It is also possible to implement additional security features such as 2D codes, variable data, serial numbers, security punching, ultraviolet and infrared properties. Another option is to combine the color codes with traceability technologies (e.g. data matrix or RFID). This aspect is becoming increasingly important because, contrary to what is often claimed, traceability codes provide no anti-counterfeit protection. Micro color codes are directly applied onto the product or its packaging to ensure counterfeit-proof traceability. Commodity management or traceability code and the product are thus protected against counterfeiting in a manner that cannot be legally contested. In this way, the OTF security label ensures seamless protection of the entire flow of goods and materials.
Companies in this article