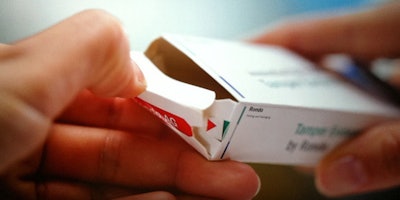 Rondo-Pak, a provider of folding cartons to the pharmaceutical, biotech, and medical device industries, has developed a folding box with a ground-breaking tamper-evidence feature that already surpasses future first opening verification security requirements (mandatory from 2016 pursuant to Directive 2011/62/EU).
The folding box's first opening is easily detectable through perforations in the lid and dust flaps that rip off upon opening. The box stands out for its simplicity and efficiency in the manufacturing process, while providing end users with assurance and comfort.
Apart from its user functionality advantages, the folding box has the added bonus of permitting machine speed to be maintained, guaranteeing optimal OEE (Overall Equipment Effectiveness) of the packaging line. This packaging performance is unaltered and opens and recloses just as easily with conventional folding boxes.
Rondo-Pak collaborates with two sisters companies: Switzerland-based Rondo AG is a specialist in the development and production of complex and demanding secondary carton packaging for the pharmaceutical industry, while Rondo Obaly, in the Czech Republic, features a new production line with the latest technology and is built to deliver efficiency and quality for the pharmaceutical industry.
Companies in this article