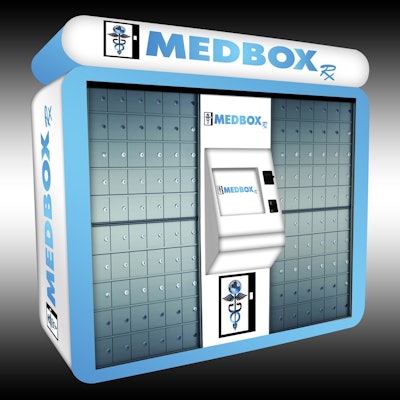 Medbox, Inc. announces that their 2013 product line has been finalized and manufacturing agreements have been reached to assure delivery of systems on schedule.
Medbox is known for its automated, biometrically controlled dispensing and storage systems for medicine and merchandise. These systems have gained national notoriety lately as the method of choice for dispensing legal medical marijuana in a controlled environment, with the utmost in reporting, transparency, and compliance.
In addition to a large order of this flagship system, the company is also offering new systems that reach specifically into niche markets, such as doctors' offices, prisons, hospices, assisted living centers, mail centers, college campuses, and traditional pharmacies. The company's new product line includes:
• Sample-Safe™—a biometric system that stores and dispenses medicine samples within doctors' offices.
• Lockbox Rx™ (shown here)—a medication storage and retrieval system, designed for use in pharmacies.
• Medbox OTC™—a non-biometric machine for over-the-counter items such as those typically found at a convenience store.
• Safe Access Storage Lockers (SAS Lockers)™—Designed to be used by medium to large mail-order companies for the retrieval of purchased goods by their customers at centralized locations.
These systems all derive and benefit from the company's issued patent (US 7,844,363 B1) and also are based on three additional patent applications that are pending.
Medbox has reached multiple agreements with AVT, Inc., Corona, CA, for the manufacturing of their systems.
Companies in this article