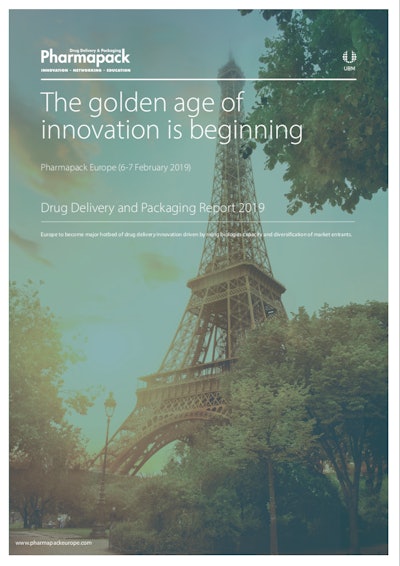 The report forecasts increased innovation by smaller companies across Europe, as industry leaders and executives prepare to meet at Pharmapack Europe Feb. 6-7 at Paris Expo Porte de Versailles.
Primary innovation drivers, according to the report, are:
• An overall increase in biologics, which is bringing investment into newer drug delivery systems such as auto injectors
• The opening up of digital technologies across the Internet of Medical Things (IoMT) and connected devices
Launched in 1997, Pharmapack is the European event for Pharmaceutical Packaging, Drug Delivery, Medical Devices and Machinery.
In Europe, emphasized by Pharmapack's Innovation Gallery, many smaller, agile firms are developing more specialized and consumer-friendly technologies.
However, many of the report's experts tempered excitement with the acknowledgment that there still remains a big scale-up gap between promising prototypes and commercial products. As a result, the report notes, "we will likely see the larger drug delivery manufacturers and pharma companies scouring these new innovation hubs for licensing partners and acquisitions. Ultimately, these new combinations of small and large companies should help accelerate and enable ground-breaking technologies to reach the patient without becoming slowed by scale-up challenges or regulatory approvals."
The report also includes the first ever "drug delivery innovation" rankings, with a clear tier-one of European nations emerging that shows Germany heading the rankings, narrowly followed by France, Switzerland, and the United Kingdom. Globally the rankings were headed by Japan and the U.S.
Further market trends
The report points to new delivery technologies to help patients self-administer drugs, such as pre-filled, needle-free delivery, and smart applications that help the patients monitor dosing and time of delivery. "It is a particularly significant trend, as healthcare prices continue to rise globally, and delivery mechanisms remove the need for supervision of a healthcare professional. This will help reduce the overall cost burden in public and private health economies.
Andy Fry, Founder of Team Consulting, says, "The balance between sales of 'conventional' and 'biologic' drugs have shifted progressively over the past few years. Given that virtually all biologics are parenterally delivered, the majority of these self-administered, the strong demand for wearable delivery devices, autoinjectors and pens, as well as pre-filled syringes and dual chamber products, is expected to continue in 2019."
The Pharmapack Europe report says, "The combined trends of the drug delivery and packaging sector over the next few years demonstrate a clear desire from regulators, developers and patients to improve the overall patient experience and centralize treatment options around the patient. In Europe, this aspiration, coupled with a growth in biologics manufacturing and a new age of innovation is redefining the art of the possible and reimagining delivery and adherence options. In fact, we would predict that a number of new innovation hubs will emerge, with a more diverse range of companies. The net results of this is likely to be an increase in licensing deals between small and large firms, as well as numerous acquisitions and co-development deals."
Silvia Forroova, Pharmapack Event Director, says, "Our report's findings closely mirror the agenda we have developed, and the conference will run across three broad themes: Patient adherence and usability, new packaging materials and drug delivery systems, and sustainability.
"We have witnessed first-hand more pharma and medical device companies specifically coming to Pharmapack Europe to explore what the next wave of clinical developments are, and to discover new innovations," she continues. "So, while the last two years have been a golden period for FDA approvals, with record numbers achieved, the next five years are expected to be the golden period of innovation for drug delivery and packaging across Europe. What is most exciting about all these changes, when looked at collectively, is that there is an increasing diversification of the types of companies, types of professionals, and collaborations in the industry driving innovation forward. Other industries have clearly shown that when an open-access approach to new technologies is taken, transformational changes are often quick to follow."
Companies in this article