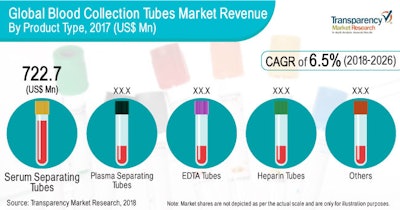 Used as diagnostic tools in laboratory environments, blood collection tubes are plastic or glass tubes used to collect blood specimens for testing. These tubes incorporate a closure that is evacuated in order to build a vacuum in the interior of the tube. That enables drawing an exact volume from the patient. The closures of blood collection tubes are color-coded, which allows laboratory staff to distinguish between different tests.
Blood collection tubes provide accuracy and precision, safety, ease of use and speed the diagnostic process. Tubes contain clot activators coated with water-soluble polymer or anticoagulant. Blood collection tube types include plasma separating tube, serum separating tube, Heparin tubes and EDTA tubes.
In its new report, Transparency Market Research forecasts the global blood collection tubes market between 2018 and 2028. In terms of value, the global market is expected to expand at a CAGR of 6.5% during the forecast period.
The study reveals blood collection tubes market dynamics in seven geographic segments along with market analysis for current market environment and future scenario.
TMR explains that these tubes represent the standard means of collecting blood specimen throughout healthcare and medical research, as they provide accuracy in blood-to-additive ratios. Additional report findings include the following:
• Sterilization by irradiation provides enhanced precision
• Market growth is arising from the surge in the number of surgeries performed globally, including cancer and organ transplant procedures
• Tubes are made up of plastic and glass, with plastic tubes preferred due to decreased breakage hazard and decreased weight