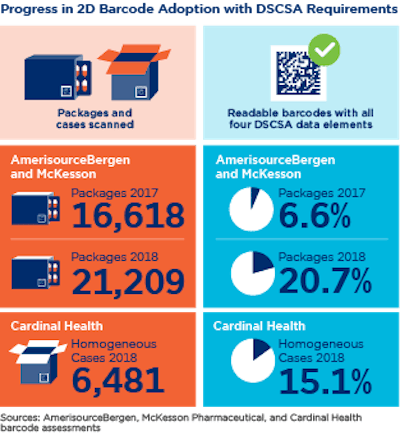 Nearly 80% of pharmaceutical manufacturers' product packages still do not have a readable barcode with all four required data elements pursuant to the Drug Supply Chain Security Act (DSCSA)– despite the looming November 27, 2018 enforcement deadline.
That's according to a barcode assessmentstudyconducted byGS1 US®, in collaboration with AmerisourceBergen, Cardinal Health and McKesson Pharmaceutical (McKesson).
[Note: The study refers to "suppliers" of packages, which in the case of distributors, actually refers to product manufacturers, not packaging material or machinery suppliers.]
Thethree pharmaceutical wholesalers, representing approximately 90% of pharmaceutical distribution in the U.S., examined package and homogenous case-level barcodes in their distribution facilities in May 2018 to obtain a snapshot of industry's progress implementing DSCSA serialization requirements.
When AmerisourceBergen and McKesson scanned 100% of on-hand package (lowest saleable unit) barcodes in their distribution centers, they found that only 20.7% (compared with 6.6% in 2017) of packages carried a readable 2D data matrix barcode with all four required data elements, including NDC (represented by Global Trade Item Number® (GTIN®)), serial number, lot number and expiration date.
AmerisourceBergen assessed 5,009 packages of specialty medications and McKesson analyzed prescription pharmaceuticals, scanning 16,200 packages. Cardinal Health evaluated homogeneous case-level barcodes on pharmaceutical products, scanning 15,708 barcodes on 6,481 cases, and found just 15.1% of homogeneous cases were marked with the 2D barcode and four data elements.
Additional issues identified in the assessment include poor barcode placement, a lack of alignment when UPC-A and 2D barcodes are both required on the same package, serialization adherence, improper coding and inconsistent expiration date formats.

"The industry has made only marginal progress in the past year toward implementing DSCSA serialization, and U.S. FDA enforcement is around the corner," said Siobhan O'Bara, SVP industry engagement and services, GS1 US. "Just over one month from now, failure to meet these critical requirements could begin to negatively impact companies' reputations and bottom lines, so time is of the essence."
AmerisourceBergen, Cardinal Health, and McKesson recommend suppliers refer to and implement GS1 Standards for barcode guidance with size, placement, encoding, and more, to improve barcode quality. All three wholesalers offer implementation assistance, including sample barcode testing, educational sessions, and individualized support. Suppliers should also pay particular attention to barcode placement on cases and packages to avoid readability issues, and use theDSCSA education and implementation resourcesavailable from GS1 US. They also urge suppliers to accelerate the implementation of serialization and address any issues now.
"Compliance is critical," said Ms. O'Bara, "but it is important to understand that the whole point of serialization is ultimately to effect industry-wide improvements in traceability, efficiency and accuracy—and most of all, patient safety—goals we can all get behind."
Details of the barcode assessment methodology and findings, as well as recommendations and resources to support implementation, are published in a new GS1 US report, "2018 Update: Implementation of DSCSA Serialization Requirements."
Companies in this article