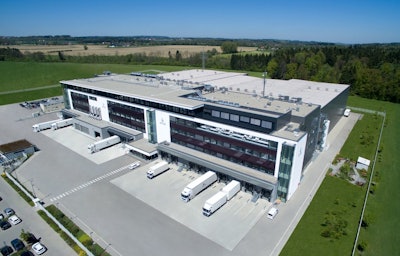 Location design, state-of-the-art technologies and innovative processes helped Vetter win the 2018 ISPE Facility of the Year Award (FOYA) in the Facility of the Future category for its Center for Visual Inspection and Logistics.
Headquartered in Ravensburg, Germany, Vetter is a global contract development and manufacturing organization (CDMO) with production facilities in Germany and the U.S. The company provides aseptic filling and packaging of compounds into syringes, vials and cartridges, with services ranging from early development support, including clinical manufacturing, to commercial supply.
FOYA judges were impressed by Vetter's new Ravensburg Vetter West center, desigined to offer efficiency, flexibility, quality and security in the injectables supply chain. The site offers Vetter customers added value, specifically outstanding quality with reduced throughput times, irrespective of the batch size.
The building's modular design allows for simple and gradual creation of more space without expansion work affecting its operations. This architecture is a direct response to an increasing customer demand for more capacity.
"We are very pleased to have received this important international award," said Vetter Managing Director Thomas Otto. "Being selected by the jury is not only a great honor, but also an incentive to maintain our focus on quality in terms of products and processes."
Peter Soelkner, a Vetter management colleague of Otto's, says, "In our future-oriented Center for Visual Inspection and Logistics, we combine many years of expertise in optimizing supply chain processes. In this way, we can offer our customers—including the world's top 20 pharmaceutical and biotech companies—ideal conditions for transport, storage and quality assurance of their products."