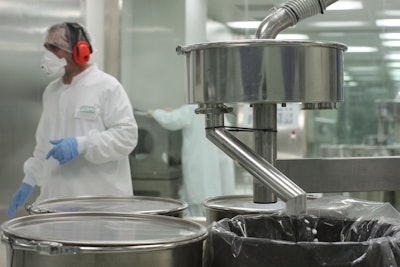 As the growing population continues to age, increases in chronic and infectious diseases, a rising need to comply with various government regulations, and a variety of technical advancements are driving the pharmaceutical processing and packaging equipment market.
According to Meticulous Research, the global pharmaceutical processing and packaging equipment market will increase at a CAGR of 8.5% through 2022, reaching a value of $25,018.3 million by that year.
The report does note that the growing adoption of refurbished machines "is expected to hamper the growth of the market to some extent."
Although North America represented the major share of processing and packaging equipment, the Asia-Pacific region is projected to show lucrative growth potential between 2017 and 2022.
The report looks at pharmaceutical processing machinery, including milling equipment, vibrio sifters, granulators, dryers, blenders, tablet presses, tablet coating machines and allied machines.
Packaging machinery noted in the report includes primary equipment for solid, semi-solid, liquid and secondary uses. Solid packaging includes machinery for blisters and strip packs. Semi-solid packaging includes soft tube filling and sealing, and sachet packaging. Liquid packaging includes vials and ampules, prefilled syringes and cartridges, and bottle filling and capping. Secondary packaging includes equipment for cartoning, wrapping, case/tray packaging, as well as labeling and serialization.