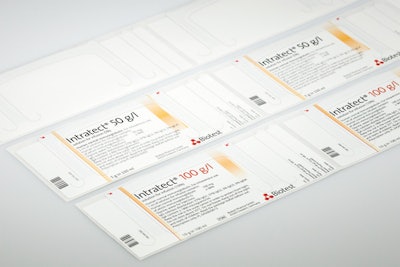 Biotest is a global supplier of plasma proteins and biotherapeutic drugs used primarily in clinical immunology, hematology and intensive care medicine. Due to its continuous growth, an increasing and diversified product pipeline and complex market conditions, Biotest sought a variable supply chain in which speed-to-market and focus on patient needs are essential.
To address these challenges, Germany-based Biotest is using a special Late Stage Customization service from Schreiner MediPharm, a global provider of specialty pharmaceutical labeling products.
The new process allows for faster production of functional labels on short demand. It also provides Biotest with the benefits of greater flexibility and the ability to respond to market requirements with requisite agility. Its partner Schreiner MediPharm assists by meeting the demands of current segmentation trends in the pharmaceutical industry.
Late Stage Customization enables fast response to customer-specific demands, as well as flexibility in joint production processes as defined in partner workshops. A cross-functional project team comprising personnel from supply chain, sales, packaging development, quality management, prepress artwork creation and purchasing functions collaborated closely to achieve optimum workflows and results.
A process center specifically dedicated to this purpose ensures optimum workflow, meeting the exacting quality requirements of the pharmaceutical industry. The labels are pre-produced in large quantities and warehoused at Schreiner MediPharm's facility as semi-finished goods. Subsequently, as requested by Biotest, the pre-produced labels are customized by digital printing and delivered on short notice.
"We benefit from a high level of customization, short lead times, fast delivery and high flexibility for short-term demand," says Stefan Sadkowiak, Head of Final Packaging at Biotest. "In addition, our process costs have decreased: We no longer have to comply with minimum ordering quantities, have reduced our warehousing expense and avoid destruction costs of preprinted labels due to text revisions."
Biotest provides plasma proteins and biological drugs. With a value-added chain that extends from pre-clinical and clinical development to worldwide sales, Biotest has specialized primarily in the areas of clinical immunology, haematology and intensive medicine. Biotest develops and markets immunoglobulins, coagulation factors and albumins based on human blood plasma. These are used for diseases of the immune and haematopoietic systems. Biotest also develops monoclonal antibodies in the indications of cancer of plasma cells and systemic lupus erythematosus, which are produced by recombinant technologies.
Companies in this article