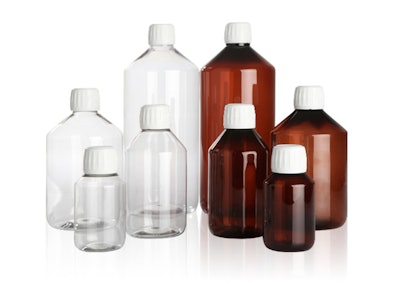 Plastic packaging seems like an obvious choice for pharmaceutical packaging, but how did this material come to outshine aluminum and glass? Dr. Rao V.S.V. Vadlamudi, president of the Indian Pharmaceutical Association and Commonwealth Pharmacists Association, wrote an article for Economic Times' Healthworld discussing the benefits of and regulations surrounding PET bottles for a pharmaceutical packaging application.
The clear, strong, lightweight plastic used for pharma bottles is known as polyethylene terephthalate (PET); it's the same plastic used fro bottled water, soft drinks, and other consumable liquids. The plastic must be non-toxic, non-carcinogenic, biocompatible, and in no way detrimental in the biological environment. PET has been approved for food and beverage contact by the FDA, Health Canada, and the European Food Safety Authority. PET packaging is actually part of the drug development process when it's tested for leaching and extractability.
The manufacturing process employed to create PET packaging doesn't contain the use of any heavy metals, eliminating any concern for the presence of harmful chemicals such as BPA or DEHP. PET is also preferred over materials like glass and metal, which are expensive, fragile, heavy, and non-flexible with a high friction coefficient to withstand fluid flow.