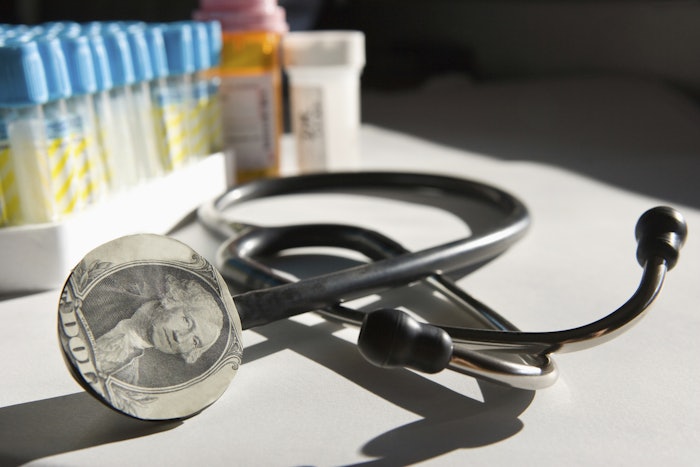 There is a "huge market opportunity for any company" that can reduce the cost of biosimilars within the biopharmaceutical market," says Mordor Intelligence's new report, "Global Biopharmaceuticals Market Growth, Trends & Forecasts (2017-2022)."
Along with cost factors, the report lists regulations, high-end product development/ manufacturing requirements and cold storage requirements as challenges and restraints, but make no mistake, the arrow for biopharmaceuticals points up.
More than half of the current top 20 "blockbuster" drugs are pharmaceuticals, says the Mordor report, which predicts biopharmaceuticals will expand at an impressive 8.6% Compound Annual Growth Rate through 2021, reaching $291 billion.
Says the report, "Biopharmaceuticals can be considered as one of the most sophisticated and groundbreaking achievements in modern science. … The most important contribution of biopharmaceuticals is in the field of targeted drug therapy and the use of biopharmaceuticals is revolutionizing this field."
Impact on CMOs and CROs
Mordor's bullish projections for the market are in line with a new Grand View Research report that projects the biopharmaceutical Contract Manufacturing Organizations (CMOs) and Contract Research Organizations (CROs) market will reach $37.8 billion by 2025.
Costs also factor into the CMO/CRO market. Says the report, "Traditional biopharmaceutical players are observed to choose outsourcing biopharmaceutical manufacturing rather than making an investment of expensive capital in production equipment and hiring skilled labor."
Another key cost finding: "The wide acceptance of single-use technology has transformed the CMOs/CROs landscape by enhancing their capabilities and enabling them to develop products at low operating costs."
Follow the money
A June 29, 2017 pharma's almanac story, "Biopharmaceutical Manufacturing Goes Mainstream," says, "Reliably manufacturing large molecules at commercial scale requires both technical and operational acumen that only the best can muster; such sophistication comes at a price. McKinsey analysts note that large-scale biotech-manufacturing facilities require anywhere from $200 million to over $500 million to build and can take around four to five years to complete, compared with $30 million to $100 million for similar-scale small molecule facilities," per Otto, Ralf, Alberto Santagostino, Ulf Schrader in "Rapid Growth in Biopharma: Challenges & Opportunities."
Referencing Yang, Yan-Ping's, "Advances in Purification Technologies Accelerate Vaccine Development" from American Pharmaceutical Review, the July 2016, notes, "The real battle for efficiency and cost control comes by configuring downstream processes and ordering filtration, purification and similar molecule-finishing operations successfully. Various high-throughput instruments have been developed over the last 25 years to support downstream process development, notably in the purification of vaccine candidates."
The pharma's almanac piece cites a 2017 Nice Insight Pharmaceutical Equipment Survey that "revealed that 64% of respondents have a focused interest in purchasing biopharmaceutical processing equipment. Of those that have a particular interest in pursuing downstream bioprocessing equipment, 43% are interested in filtration equipment, 40% in purification equipment and 39% in separation equipment. For those interested in upstream bioprocessing equipment, 37% mentioned mixers/blenders/millers being of interest, 34% cited incubators and 29% expressed interest in fermenters."