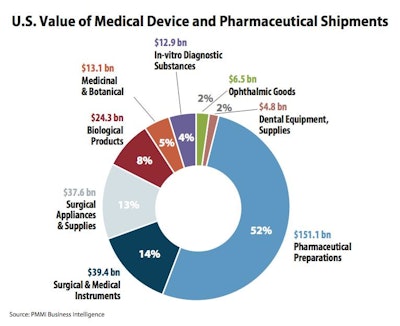 Pharmaceutical sales include pharmaceutical preparations such as ampules, tablets, capsules, vials, ointments, powders, solutions and suspensions for prescriptions and over-the-counter meds, but also includes vitamins and nutritional supplements.
This category also includes biological products including vaccines, toxoids, blood fractions, and culture media of plant or animal origin (except diagnostics). In-vitro diagnostic substances also contribute to this category, as well as medicinals and botanicals.
Medical Device sales come from four major categories. Surgical and medical instruments include Class l, ll and lll devices like syringes, needles, anesthesia apparatus, blood transfusion equipment, catheters, surgical clamps and thermometers. Surgical appliances and supplies include orthopedic devices and prosthetics, surgical dressings and sutures, safety wear (gowns, gloves, eyewear and masks), hospital beds and operating tables.
Ophthalmic goods consist of prescription eyeglasses, sunglasses, contact lenses and reading glasses.
Finally, dental equipment includes dental chairs, dental instruments and instrument delivery systems, dental impression materials and cements.
Source:PMMI Business Intelligence, Pharmaceuticals and Medical Devices 2016: Trends and Opportunities in Packaging Operations.
Clickherefor the entire 58-page report.
Companies in this article