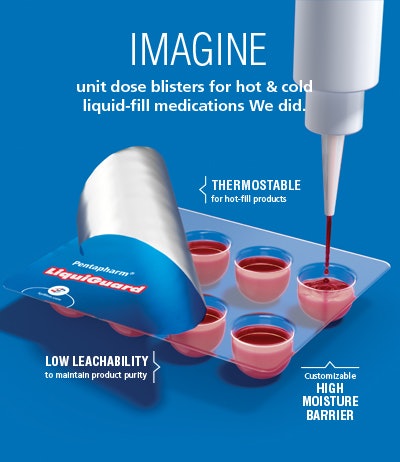 Klöckner Pentaplast introduces LiquiGuard™, the latest innovation in the Pentapharm® line of pharmaceutical blister films. Until now, limitations of blister films to withstand hot-fill liquids and other emerging dosage forms presented too great a technical challenge for blister packaging to be a viable option for nutraceuticals and medications beyond solid oral dose formulations. With Pentapharm® Liquigiard™, hot- and cold-fill liquids and semi-solids can be formed and packaged directly in a crystal-clear, thermostable laminate film that protects sensitive products from package leaching and moisture gain or loss.
The new blister films stand to impact applications such as chewables, gummies, nutraceuticals, pharmaceuticals, formulations sensitive to flavor or odor loss, unit dose liquids, and veterinary packaging. Also, they offer a unique combination of benefits across applications, including autoclavable for sterile applications, customizable high moisture barrier (prevents moisture loss and gain), deep draw properties for complex blister geometries, and high slip for quick release. The films also provide high heat stability, low leachability, and extractability with good odor and flavor retention, one-stage forming, and packaging of hot-fill products, and visual clarity for enhanced shelf appeal.
According to Michael Rashed, senior manager, global marketing at Klöckner Pentaplast's Pharmaceutical Films Division, the films provide an advanced option for single unit does packaging of medication in any dosage form that require resistance up to 120 degrees during processing, while offering all the benefits of a clear, thermoformable blister film with a customizable moisture barrier.
Companies in this article
Videos from Klöckner Pentaplast Pharma, Health & Protection and Durables