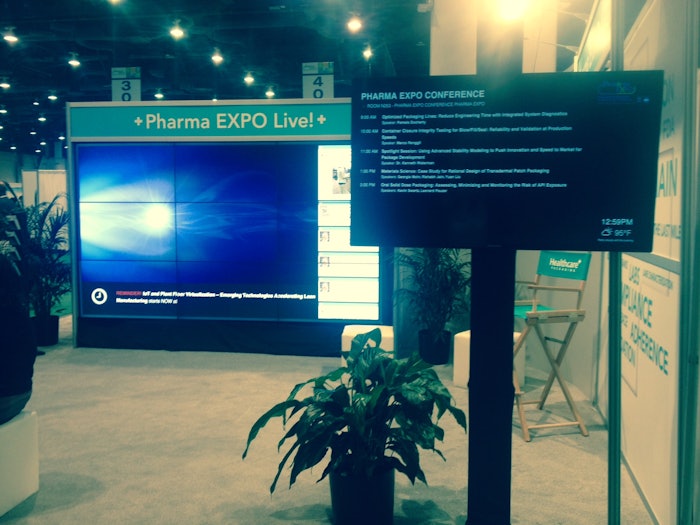 Editor's Note: This article was written live from Pharma EXPO.
In API (Active Pharmaceutical Ingredient) manufacturing, companies focus considerable attention on minimizing contamination in the product, but many manufacturers do not have robust enough protection in place for personnel when packaging (OSD) Oral Solid Dose drugs.
In their presentation, "Oral Solid Dose Packaging: Assessing, Minimizing and Monitoring the Risk of API Exposure," Senior Packaging Engineer Kevin Swartz and Senior Process Engineer Len Pauzer at Integrated Project Services discussed some of the key considerations in protecting packaging workers, especially as compounds become increasingly potent:
• Cleaning procedures should be reviewed to ensure that they do not compromise PPE (grazing a sharp corner can tear a glove).
• The movement of paperwork, labels, and sampling in and out of the packaging area can create situations for exposure.
• Product-product contact is a leading cause of particulates in the air, so it's important to minimize tablet-to-tablet contact to keep dust to a minimum. Product contact with stainless steel can also lead to particulates in some cases. Using plastics or coating processes may be considered for certain product contact equipment.
• The manufacturer should be involved in the machine design process as a partner. While vendors are experts in the machinery itself, the manufacturers "run it 365 days for 20 years straight, so [they] are the process and product experts," Pauzer explained.
Swartz and Pauzer say they still come across user requirement specifications that deal only with functionality and not with safety. They hope to bring awareness to the packaging community about personnel exposure hazards.
Companies in this article