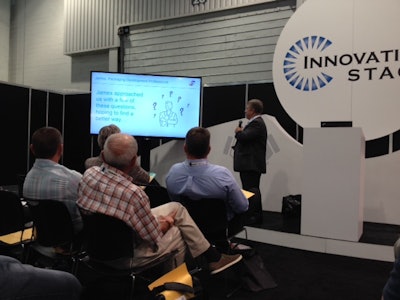 Typical pharma packaging engineer James, represented by a nifty paperboard cutout, needs help developing new pharma packaging and he'll get it thanks to a new collaborative service from Klöckner Pentaplast called BlisterPro XCEL.
Based in Charlottesville, VA, the center features facilities and expertise to help packagers model drug properties, select materials, model designs, prototype designs, and provide tech services after production. It's described as "science-based predictive technologies to overcome these challenges much more rapidly and inexpensively than traditional trial and error."
In his presentation, "Creating Tomorrow's Packaging Today: Technology and Collaboration-Based Approaches to Optimize Pharmaceutical Package Design," Klöckner Pentaplast's Daniel Stagnaro,
Global Director, Market Development—Pharmaceutical Films Division—presented three scenarios involving James and the services he could obtain at the center: whether to choose a single- or double cavity capsule; cavity prototyping; and design/productivity analysis.
Companies in this article
Videos from Klöckner Pentaplast Pharma, Health & Protection and Durables