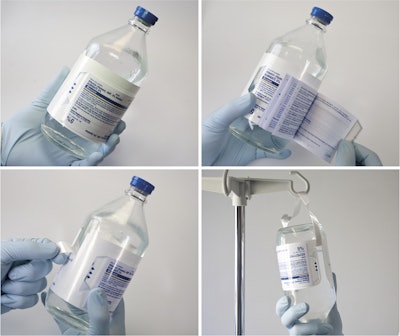 Pharma-Tac Plus, a multifunctional label from Schreiner MediPharm for infusion bottles, took first place in the "Multi-Process" category at the 2013 TLMI Awards, which are held by the North American Tag and Label Manufacturers Institute. The solution was developed in cooperation with Baxter Healthcare Corp.
The TLMI Awards judging team places importance on the innovation of product entries, as well as their printing and manufacturing quality. The Pharma-Tac Plus label convinced judges due to its printing expertise, quality level, and design.
The goal of the innovation was to equip a label for infusion bottles with enough space for extensive information, stable hanging, and easy administration documentation. An integrated booklet label, a hanger, and detachable label parts achieved these functionalities.
The paper booklet provides an extended area for multilingual text on ingredients and instructions for use. It is firmly connected to the plastic base label, and can be opened and closed with ease by means of a starter tab. The robust hanger is an integral component of the label, and is easy to separate from the label construction for activation. The detachable documentation labels ensure reliable tracing of the medication and allow safe handling, even while wearing gloves.
Baxter International Inc., through its subsidiaries, develops, manufactures, and markets products treat people with hemophilia, immune disorders, infectious diseases, kidney disease, trauma, and other chronic and acute medical conditions. As a global, diversified healthcare company, Baxter applies a combination of expertise in medical devices, pharmaceuticals and biotechnology to create products that advance patient care worldwide.
TLMI is a member-driven association strongly committed to providing business solutions that enhance the prosperity of its members and the narrow web tag, label, and packaging industries.
Schreiner MediPharm is a developer and manufacturer of specialty labels in the healthcare and pharmaceutical industries.
Companies in this article