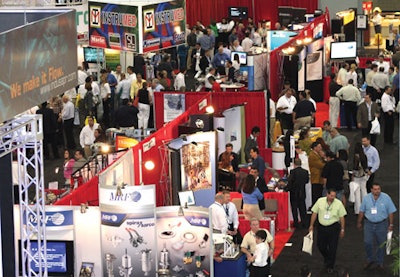 Interphex NY 2010
will house the Manufacturing & Packaging Zone in the center of the exhibit hall. The zone will address virtually every stage of the manufacturing process, from process development and quality control to packaging and validation. This zone serves as a resource for equipment and technologies that can help enhance productivity and safeguard product efficacy. It will feature more than 280 manufacturers in the following product catetories:
Automated systems, bioprocessing equipment, capsuling equipment, cleanrooms, conveying equipment, engineering services, filling equipment, inspection/detection systems, labeling, labs, material handling, processing equipment, sealing, and validation, and more.
Interphex will also include the following packaging-related conference sessions:
• Session 120: Reduce Waste and Improve Sustainability through Prevention, Early-Detection and Reprocessing, 10:15 a.m. to 11:15 a.m., Tues., April 20. This seminar will detail a three-pronged approach to reducing waste and improving sustainability through prevention, early detection, and reprocessing. Attendees will also be shown things to look for in the packaging operation that indicate a problem, where unneccessary waste is occuring, with tips on how to prevent this in the future. Speaker: Alan Shuhaibar, president, BellatRx Inc.
• Session 125: Green Solutions for Temperature Controlled Shipping, 2:15 p.m. to 3:45 p.m., Tues., April 20. The presentation will cover ways a company can increase the sustainability factor of the packaging materials they use, since end-of-life disposal options can lessen environmental impacts. Learn how one company actively supports sustainable packaging through a detailed description of the logistics and practicalities of recycling EPS temperature-controlled packaging. Speakers: Elizabeth M. Steiner, executive director, Alliance of Foam Packaging Recyclers (AFPR), Al Valkema, national accounts director, industrial, Sebright Products, Inc.
• Session 123: Worldwide Pharmaceutical Package Traceability, 11:30 a.m. to 12:30 p.m., Wed., April 21. This presentation will focus on the worldwide pharmaceutical package labeling requirements, including product serializing and traceability. This presentation will review current requirements in Europe, Asia, South America, and North America, including data tracking and reporting requirements. The presentation will outline flexible packaging techniques that allow pharmaceutical companies to package to any government's requirement from the same line. Speaker: Ron Lawson, president, Seidenader Vision.
• Session 116: Securely Implementing RFID in the Pharmaceutical Supply Chain, 2:15 p.m. to 3:45 p.m., Wed., April 21. For anyone interested in using RFID tags as part of their pharmaceutical supply chain, including representatives from manufacturing, packaging, logistics, IT, and distribution.
Members of the RFID Security Alliance (RFIDSA) will discuss these issues and strategies to minimize or mitigate risks associated with implementing RFID solutions. Speakers: Michael McCartney, principle, QLM Consulting, Louis Parks, president & CEO, SecureRF Corp., and Mohinder Sikka, CEO, Sensitel, Inc.
Interphex is now in its 31st year, providing technology, education, and sourcing of products and services to help drive scientific innovation for the life sciences industry.