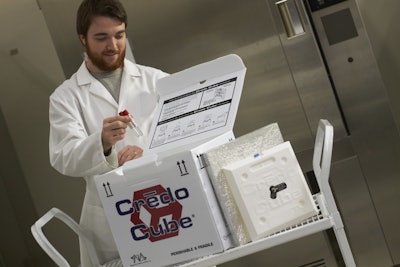 Earlier this year I shared a list of major cold chain trends expected to impact pharmaceuticals and life sciences in 2017. The list included continued consolidation of the carrier market and optimization of reusable and single-use packaging based on purpose, but topping the list was the trend of an increased patient-centric approach within the pharma industry.
So, how will this trend drive the direction of cold chain for life sciences in the coming months? Let's look at the ways a patient-centric approach is already impacting cold chain and what it could mean in the future:
The next step in biologics
In 2015 and 2016, the industry speculated about the continued emergence of biologics, many of which require strict temperature control, and how that development would influence cold chain in the year ahead. A patient-centric approach, also sometimes referred to as "patient-centric treatments," presents many of the same logistics challenges posed by biologics as a whole. In fact, you could consider patient-centric treatments the next step within biologics and pharmaceutical development.
Like other uses of biologics, these primarily cell-derivative and gene-based therapies require more controlled—and often more complicated—shipping lanes. However, unlike biologics before them, patient-centric treatments also require customization, not just in the makeup of the drug itself, but also in how those drugs are delivered and stored.
Temperature requirements
With many of the cell-derivatives and drugs for gene-based therapies requiring rigid temperature-control, a patient-centric approach impacts all areas of treatment delivery, including packaging and distribution.
As with other temperature-sensitive drugs, failing to meet regulations imposed by governing bodies, including the European Union (EU), U.S. Centers for Disease Control and Prevention, Federal Drug Administration (FDA) and the World Health Organization (WHO), can result not only in loss of product, but also in bad press, heavy fines, or both. Identifying a temperature-controlled packaging solution that both prevents temperature excursions and is cost-effective, is key to the bottom line. Better cold chain packaging can open up new shipping options and more flexibility, while simultaneously reducing costs and improving protection for cell-derivatives and gene-based therapies.
Customizing shipping
The custom nature of patient-centric treatments also introduces new questions for pharmaceutical manufacturers and stakeholders in the pharma cold chain. After all, they're not just dealing with standard drugs and chemicals. As a stakeholder, how do you serve specific needs of the patients, while keeping the process affordable? Finding an answer to questions like this often requires seeking new ways to reach patients.
When it comes to the logistics of patient-centric treatments and specialty pharma, careful consideration is required for differentiation in shipping lanes, as well as for smaller shipments, such as personal care packages.
A patient-centric approach also requires accounting for drugs that aren't necessarily part of a traditional shipping lane, such as when patients take drugs home. In the past, this was referred to as the "last mile," or "final mile," and focused on pharmaceutical sales and other representatives who might be distributing clinical trial samples. The custom nature of a patient-centric approach requires the same concept. To address this need, we're likely to see more, small, portable packaging solutions.
Patient choice and convenience as a new cost consideration
With a patient-centric approach, patients are increasingly aware of and taking more control of their treatments. Patients are more enabled than ever and pharmaceutical manufacturers and other stakeholders must take into account what patients are willing to pay—a factor that impacts shipping considerations as well as overall business costs. This comes on top of potential costs of increased shipping lanes and building awareness of certain therapies and monitoring individuals for exact impact—either positive or side effect—issues not present with clinical trials.
Looking ahead
Pharmaceutical manufacturers, distributors, and other stakeholders are challenged to make the market aware of patient-centric treatments, as well as meet temperature regulations, and address the limitlessly unique requirements of each shipping lane. As a result, the patient-centric approach will likely continue to be a financial and budget challenge, pushing these stakeholders to make smart cold chain logistics choices.
Kevin Lawler is the Vice President of Worldwide Sales at Pelican BioThermal with more than 25 years of sales leadership experience.
Companies in this article