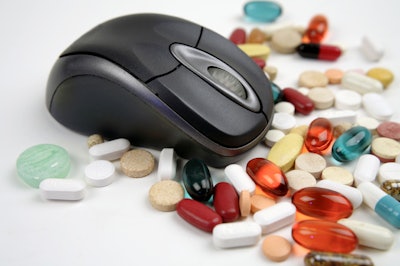 If it weren't for the Internet, drug regulation would be a lot simpler.
The way drugs are regulated, with every detail being scrutinized about how they are made and labeled, it doesn't take much to render a product unlawful—slightly incorrect ingredients, failure to follow a manufacturing step as written, a typo on a label. And that's when the drug makers and sellers are at least trying to do the right thing.
When the makers or sellers of drugs aren't even trying to behave themselves, thanks to the Internet, it's easier than ever for them to reach unsuspecting customers.
Selling drugs over the Internet is not illegal as such, but selling prescription drugs without a valid prescription is illegal. So is selling inauthentic drugs, or drugs that lack the necessary U.S. The FDA approval for marketing, of course, two things online sellers seem to have a bad habit of doing.
Illegal online sales is such a widespread problem that in a single week in June, the FDA took action against more than 9,600 Web sites it said, "illegally sell potentially dangerous, unapproved prescription medicines to consumers," seizing and shutting down 1,677 Web sites.
FDA did all this as a participant in the International Internet Week of Action, this one named "Operation Pangea VI."
FDA said, "Many of these Web sites appeared to be operating as part of an organized criminal network that falsely purported its Web sites to be "Canadian Pharmacies." (For some reason, we trust Canadian pharmacies, evidently.) These Web sites displayed fake licenses and certifications to convince U.S. consumers to purchase drugs they advertised as "brand name" and "FDA approved," when in fact they were not from Canada, and neither brand name nor FDA approved. The sites also used names of major U.S. retailers to fool consumers into thinking there was an affiliation.
[On the day I wrote this, I got one such solicitation via email. It claimed to come from a Canadian pharmacy, touted available pain, antidepressant, 'men's health,' and erectile dysfunction medications, and said prescriptions and consultations were never needed.]
FDA explains in a press release that the offending Web sites sold unapproved prescription medicines, and also products that had "bypassed existing safety controls required by the FDA, and the protections provided when used under a doctor's care."
FDA's Web site BeSafeRx has these tips for the bad and the good when it comes to online pharmacies:
Beware of online pharmacies that:
• Allow you to buy drugs without a prescription from your doctor
ª Offer deep discounts or cheap prices that seem too good to be true
• Send spam or unsolicited e-mail offering cheap drugs
• Are located outside of the U.S.
• Are not licensed in the U.S.
Tips for identifying safe online pharmacies:
• Always require a doctor's prescription
• Provide a physical address and telephone number in the U.S.
• Offer a pharmacist to answer your questions
• Have a license with your state board of pharmacy
Finally, how does one seize a Web site? Well, you start by getting a seizure order from a federal judge. The actual mechanics or electronics that follow aren't clear, but if you go to one of the targeted Web sites now, you see an official page with the seals of the U.S. Department of Justice, FDA's Office of Criminal Investigations, and the International Criminal Police Organization or Interpol, saying, "This domain name had been seized pursuant to a seizure warrant issued by a United States District Court. Individuals who traffic in counterfeit drugs, dispense prescription drugs without a valid prescription or otherwise receive or distribute misbranded, adulterated, or counterfeit drugs are subject to severe penalties under federal law." Then it refers readers to a Web site about the dangers of purchasing pharmaceuticals online, www.fda.gov/BeSafeRx.
Just in case you thought they were kidding around.