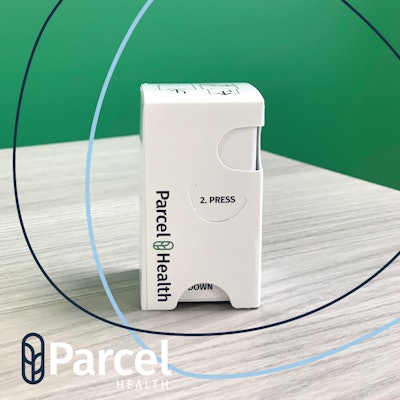 The healthcare industry, especially in pharmaceuticals, generates a significant amount of global CO2 emissions. An example of the industry's impact is through the billions of single-use, amber pill bottles that stock the shelves of every pharmacy across the United States.
Parcel Health, a women-founded sustainable medication packaging startup located in Pittsburgh, PA, has set its eye on minimizing pharmaceutical packaging waste, starting with its first product, a pill bottle replacement called the Phill Box™. The system, which is best suited for oral solid doses, is designed to be functional while also being recyclable, compostable, water-resistant, and an easy-to-use alternative to traditional packaging.
Parcel Health has a short and robust supply chain contained within the U.S. that starts with sustainable paper, a manufacturing partner, and an assembly and fulfillment center in Pittsburgh.
"The healthcare industry is a very carbon-intensive service sector, representing 4-5% of global emissions. With 8 billion plastic pill bottles used in the United States every year, this will be one of the easiest ways for any healthcare provider to lower their carbon footprint," says Melinda Lee, PharmD, the cofounder and CEO of Parcel Health. "The Phill Box is made with Forest Stewardship Council (FSC)-certified sustainably sourced paper and requires 30% less carbon emissions to produce compared to plastic bottles. Every part of the Phill Box has been made and designed with care to the environment, patients, and pharmacies."
The Phill Box is also Programme for the Endorsement of Forest Certification (PEFC)-certified, according to Mallory Barrett, co-founder and president of Parcel Health. The box is coated with a sustainable and proprietary coating that gives it water-resistant qualities to withstand accidental spills, and it also has a slight grease-resistance quality to make peeling off labels easy. When asked about moisture barrier, Lee explains that along with the blend of coatings, it was designed as two boxes that fit together, hence providing two layers of coating and two paperboard barriers of protection against the aforementioned accidental water splashes or spills.
"After a brief wash in the sink, the Phill Box biodegrades completely if buried under soil in warm conditions, such as in the summer heat. Additionally, it can be recycled in any municipal recycling program that accepts paper or paperboard products," says Barrett.
The Phill Box is currently being piloted by ten independently-owned pharmacies around the country. Many of these pharmacies offer quick prescription transfer and free delivery, making the switch easy and convenient for patients.
Successful pilot program
"This is the next generation of medication packaging," notes Kyle McCormick, PharmD of Blueberry Pharmacy. "It is a fantastic product that's leading the industry towards a sustainable future."
Blueberry Pharmacy, also located in Pittsburgh, PA, was one of the first pharmacies to join the pilot program over a year ago and has been a strong marketing source to spread the word to other pharmacies.
"I don't know if I saw on social media or she happened to stop in or how that connection happened at first. But the idea of reducing the ridiculous amount of plastic produced by pharmacy specifically, really resonated," McCormick says.
After signing up for the pilot program, McCormick shared it on social media and created videos displaying the Phill Box and its purpose, which hooked both Carlee Wilmot, PharmD and pharmacy manager at Health Park Pharmacy/Isabella Citizens for Health, Inc. in Michigan and Kristin Proffit and husband Chris Proffit, PharmD of Uptown Drug and Home Medical in Arizona.
Wilmot and Proffit expressed their interest in reducing the amount of single-use plastic in their field, which would provide additional benefits in reducing the storage of plastic pill bottles and their associated costs.
All three PharmDs note that the Phill Box delivery process was seamless and that Parcel Health was easy to communicate with and very open to answering the pharmacies' questions. After a quick form fill-out and a web meeting with Barrett and then the Phill Box packages were sent along with marketing displays and social media advertising assistance.
Proffit says her pharmacy trained staff briefly on the new packaging and how to engage with the patients on the phone and in person to promote the Phill Box. Once a patient opted to use this paper-based option, the pharmacies would demonstrate how to open and close the box.
McCormick explains that in the beginning, the opening-closure feature could get caught and may have seemed counterintuitive to many patients. Parcel Health took the feedback and was able to improve the feature and "iterated every design flaw that we could think of out of them," he says.
Patient perception and acceptance
The majority of first users the PharmDs reported to be very much on the same page as far as environmental awareness goes—realizing that each time they came in to refill a prescription, that was another plastic bottle in the garbage—and stuck with the packaging through its various iterations. Other patients, especially the geriatric patients warmed up to the packaging at a slower pace, and some struggled to understand how the box functioned.
"We learned that older patients need more instruction when using the Phill Box," says Barrett. "One pilot pharmacy provided Phill Boxes to their older patient population and received critical feedback of it. We subsequently launched a study to better understand this and found that, once given a 5 to 10 second demonstration of the Phill Box mechanism, 8 out of 10 older adults (above age 65) actually prefer the Phill Box compared to their standard orange pill bottles due to our unique opening mechanism."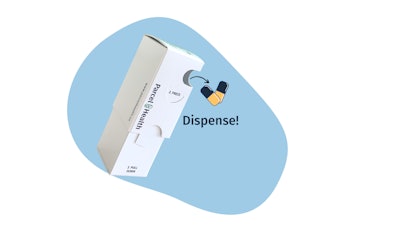 McCormick says patient perception was broadly positive, though Wilmot noted that it was not well received by all, which could be due to misconception that the Phill Box would contain notoriously hard-to-open foil blister packs. However, Wilmot also expresses that her pharmacy's main form of marketing was word of mouth—including through its patients—and people actually transferred to Health Park Pharmacy/Isabella Citizens for Health, Inc. for the Phill Boxes.
The Phill Box design and working out the quirks
According to McCormick, his patients "overwhelmingly" liked the design of the Phill Box. But it's not only the patients who like the look.
"From the appearance, it's a nice clean look. And the instructions are printed on there. One of the most exciting things is the customizability of the display where it can be white labeled, essentially. And so when I saw the holiday design being printed, that was very exciting. One thing that we currently have with our vials is that the lids have customized messaging on them for our pharmacy. But imagine, with the box, you can almost have anything printed on it. And you can design a label now to fit on a box to where you can read everything in a single panel, I think that's very intriguing as well. So there's just some benefits there from being box shaped versus cylindrical," says McCormick.
Wilmot's pharmacy also makes use of customizable labeling by changing the appearance of the paper bags that the prescriptions are dispensed in throughout the year, the most recent being a breast cancer awareness design. She comments that this customizability along with the clean, sleek look of the box are part of what attracts patients to the Phill Box.
Each pharmacy provided invaluable feedback to Parcel Health. Current issues that are being addressed are:
Tightening the box so that tiny tablets can't slip between the pieces of paperboard (which has already been fixed)
Developing a bigger Phill Box for patients with larger prescriptions
Getting the Phill Box child resistant-certified—Barrett confirms that third-party testing is underway
Pharmacists have also asked about making the boxes more water-resistant, which may be addressed in the future.
"The pilot was very successful," says Barrett. "We learned that pharmacies and their patients are much more receptive and enthusiastic about environmentally friendly packaging than we previously anticipated. We thought that our pending child-resistant certification would be a huge barrier to adoption, but found that since pharmacies utilized many non-child resistant packages such as adherence packaging, they were ready to purchase the Phill Box as a non-child resistant and sustainable product to stand out in the crowded pharmacy market."
Barrett also affirms that running the pilot helped Parcel Health to build strong relationships with its pharmacy partners. Parcel Health has developed a Starter Kit and has plans to expand its sustainability packaging offerings for prescriptions and other medications—such as injectable packaging, liquid packaging, shippers and secondary packaging, etc. within pharmacy—and reducing plastic in single-dose packaging within healthcare systems and hospitals.
"There is also a huge need for non-plastic sustainable packaging in the OTC and vitamin space. We hope to touch and impact each of these areas in due time," says Barrett.
Companies in this article