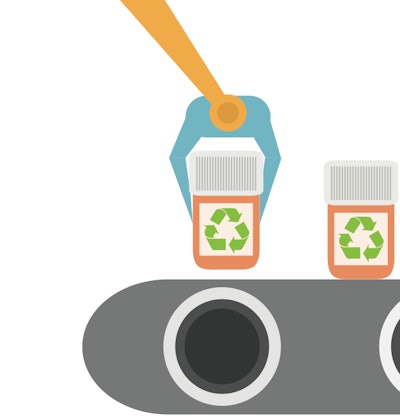 For consumers, the most obvious gauge of sustainability is packaging. While manufacturers are also seeking to lower overall energy usage through more efficient machines and processes, these improvements are not very visible to the average consumer.
In contrast, recyclable, recycled, and plastic-alternative packaging materials are powerful sustainability messages that are highly visible to consumers, according to "Pharmaceutical Manufacturing, Trends Shaping the Future."
One example of this is PLAs, or bio- based plastics, which are combustible (for disposal of surfaces contaminated by drugs), easily temperature controlled, and require 65% less energy to produce. Sustainably sourced packaging aiming to reduce usage of tree-based materials are also gaining in popularity. These "tree-free" alternatives – such as hemp, recycled cotton fiber, and sugarcane board – are effective ways for pharmaceutical manufacturers to communicate their commitment to sustainability.
---
---
"We are always looking to be more sustainable by using more recyclable materials and lightweighting." — Sr. Manager, Global Technology, Large Rx and OTC Manufacturer
Perhaps the most direct way to communicate sustainability messaging to consumers is by including it right on the label of the product. Prominent messages touting sustainability are clear, unambiguous signals to consumers that a company takes environmental stewardship seriously. Something as simple as a "Recycle Me Again" message included on a label can communicate to consumers that the packaging is both made from recycled materials and is recyclable itself, conveying a succinct sustainability message.
This concept can even be applied to physical properties of the label itself: smaller, plastic-free labels are quick visual cues to consumers that a company is seeking to minimize material usage and improve the sustainability of their products.
"We are moving away from using only plastic packaging to other materials. " — Associate Director, Packaging Technology, Large Biopharmaceutical Manufacturer
Sustainability Strategies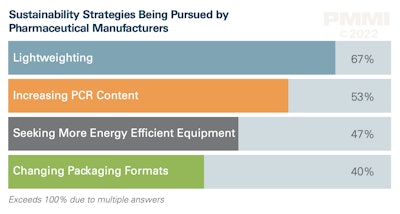 "Overall, we are using more recycled content and lightweighting our packaging to achieve our sustainability goals." — Packaging Engineer, SME, Solid and Liquid Product Manufacturer
According to the new study, the vast majority of pharmaceutical manufacturers interviewed have sustainability on their radar and are using more recycled content in their packaging, lightweighting packaging, seeking more energy efficient equipment, and changing packaging formats.
---
---