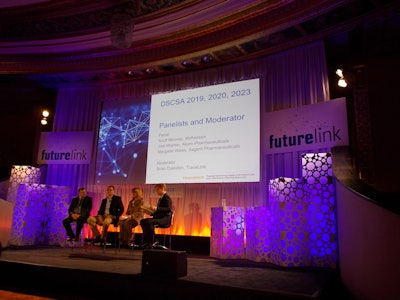 Technology, particularly as it pertains to smartphone applications, is progressing so rapidly that it no longer seems futuristic to imagine patients and physicians communicating digitally to improve health outcomes. What's still in the works, however, is connecting all levels of the healthcare supply chain in an effort to address everything from medication adherence to serialization compliance/benefits to drug shortages.
Recognizing the Nov. 27 Drug Supply Chain Security Act (DSCSA) enforcement deadline is just three weeks away, presenters at TraceLink's FutureLink 2018 Chicago event Nov. 5-7, were turning their attention to ways companies can benefit from serialization investments, as well as and the 2019 DSCSA saleable returns deadlines related to wholesale distributors and pharmacies.
"This has been one more thing to comply with," noted Lisa Baird, National Director of Pharmacy Operations for Ernest Health, referring to the DSCSA deadlines. Baird participated in a panel presentation, "Pharmaceutical Recalls: Supply Challenges and Opportunities." She stated, "If there was a way to bring some kind of financial return to this it would be great!"
In his presentation, "Value Creation from Serialized Product Information Across Your Supply Ecosystem," Biogen's Global Serialization Project Manager Bjoern Rosner addressed the return on investment issue, saying, "We are nearing the tail end of a wave of compliance implementations."
He told the audience of 250-plus in Chicago, "Industry has made huge efforts to meet these compliance deadlines but we need to know what we're getting out of our investment." As for the next considerations in the process, Rosner suggested the following:
• Determine where the ROI is.
• Corporate leaders are now becoming more aware of serialization, realizing their operations may incur production stoppages and need to make supply chain changes. "It's not a project that's over and done with in 2023, but a new way of life."
• "Digitalization of everything is moving forward. The digital supply chain is here. You have a physical product with a digital number that identifies the pack. Serialization has a role to play in this determination of business value."
Like many speakers on Nov. 6, Rosner made use of smartphone-generated audience polling. An audience question, "How far have you come in finding business value in serialization data?" revealed that most companies have thought about gaining value from serialization data, but most have not invested much time in it, focusing initially on meeting compliance deadlines.
Global efforts
Compliance deadlines, of course, apply not only to the DSCSA in the U.S., but to global regulations. To illustrate this, Abbott's Director of Standards and Traceability, Cyndi Poetker, said the company has been involved in worldwide serialization-related efforts for more than 10 years.
Showing a map of the world that highlighted the company's serialization/track-and-trace journey in various countries, Poetker engaged the audience with an origami "fortune teller" prop, in which attendees folded a flat sheet of paper into triangular shapes, revealing a series of printed serialization-related topics. Attendees could then ask questions about those topics as they related to Abbott's track-and-trace efforts in specific countries.
Whether it's Turkey, Brazil, India, Russia, Pakistan, etc., Poetker stated, "We need all stakeholders within an organization to take part in serialization, especially in IT support. We work within local, national, regional, divisional, and enterprise levels. You need to have local people who can translate regulations in their language," she said, pointing out that relying on a service such as Google can result in different interpretations among different countries and cultures.
Poetker noted that Abbott works with TraceLink at the enterprise level. She said Abbott addresses global regulatory compliance efforts through process and technology avenues. The process side, she said, requires a company to be able to forecast its need for packaging materials, such as labels and cartons.
"In China," she said, "we recognized that barcodes printed on cartons require extra time in Quality Assurance to go through government approvals to verify the serialized numbers."
Poetker also spoke to an operational issue that factors into serialization ROI when she asked rhetorically, "When will my OEE go back to where it was before? Will it ever be the same again?"
Recognizing the incorporation of new technologies into the serialization process, such as Manufacturing Execution Systems, printing equipment, the coordination of serialization and aggregation, software demands, levels of automation, and ever-increasing Cloud storage requirements, Poetker said, "It's not business as usual. We cannot go back to 'normal,' but recognize that we now have a new normal. We can try to harmonize systems, collect data and work with regulators and industry groups to get standardization so that we can build one process into our daily manufacturing. Our biggest challenges will include managing changes in our internal business and operational processes and aligning with supply and trade partners."
Cultural differences, she explained, play a significant role in making progress in countries with varying regulatory strategies. She said a phasing-in approach to regulations is important. That's because governing agencies may adjust or change their regulations over time. This can lead to producing labels or printing cartons that require rework, wasting time, materials and money. They can also result in the duplication of codes and making it difficult to decipher between authentic and fake products.
Technology to the rescue?
Technology that can provide the ultimate solution to serialization and product recalls served as the event's key theme. TraceLink President and CEO Shabbir Dahod opened the event by noting that sharing serialized numbers throughout the supply chain, governments and industry represents the future of medicine. "We are on a digital infrastructure journey that involves putting patients at the center of the universe," he said.
The journey is incredibly complex. For supply chain players, critical thinking will be necessary to determine what technologies will not only help meet global regulatory compliance issues, but what will provide data that will deliver measurable results to justify the economic investment.
All this effort is aimed at improving patient health outcomes and somehow addressing the issue of health care costs. How successful these efforts will be ultimately will depend on the cooperation of patients. Younger generations tend to enthusiastically embrace technology while that's not always the case with more senior patients uncomfortable or unfamiliar with newer technology. Then there's the issue of individual privacy rights. Patients will make the call about revealing personal information to improve their health.
All of that said, the prevalence of smartphone usage among all age groups bodes well for the incorporation of digital health care, incorporating personalized medicine, gene therapy, etc.
Dahod said that TraceLink is creating the world's largest digital information-sharing infrastructure that presently includes more than 1,000 customers, one billion-plus serialized numbers, and 44 countries worldwide. "These numbers will skyrocket to 10 times this amount in the next five years. We have 6.3 billion serialized numbers reserved."
Moving forward, he said the company will invest heavily in an application platform to provide information to companies up and down the healthcare supply chain. He also said plans call for increased attention to using humidity and temperature sensors to better manage ever-increasing temperature-sensitive biologic and combination product therapies. He said machine learning, Blockchain and Artificial Intelligence will be essential in the transformative digital health era.
TraceLink's FutureLink 2019 will be held in Barcelona June 11-13, 2019.
Companies in this article