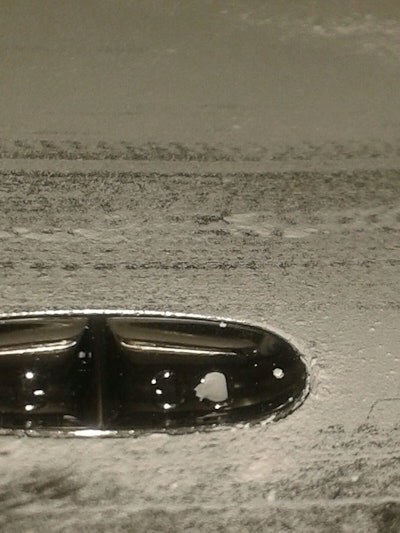 Novartis, a global healthcare company based in Basel, Switzerland,offers a diversified portfolio to meet patient needs including innovative medicines, eye care, generic pharmaceuticals, preventive vaccines, over-the-counter and animal health products.
Downtime from sticking
When the Italian division of Novartis encountered a sticking issue in the production of coated tablets of an antiepileptic drug, the company approached I Holland, provider of tablet tooling and complementary equipment.
Novartis reported that tablet sticking and picking was causing the press to be stopped several times during manufacturing for cleaning and maintenance of the tablet punches, resulting in production downtime.
One of the most common problems in tablet manufacturing, sticking is a build-up of granules on the punch tip face. It has a negative effect on tablet appearance and often results in the removal of tablet tooling from production for repeated cleaning and maintenance, leading to reduced tablet output.
Picking is an issue where compressed granules that have adhered to the detail on the punch face result in "picking out" of parts from the tablet face.
Both issues can be caused by various factors related to the physicochemical properties of the formulation components and the surface characteristics of the punch face, as well as factors related to the machinery and the environment, including compression force and speed, temperature and humidity.
Analyzing the problem
First, Novartis looked at the coating used on the tooling to overcome the sticking/picking issues, trying several different coatings including HC (Hard Chromium), CrN (Chromium Nitride) and TN (Titanium Nitride). These did not address the issue, so Novartis Italy contacted I Holland for advice and analysis of the problem.
Sample tools were examined, and I Holland used its TSAR≈Predict (Tabletting Science Anti-Stick Research) model to analyze the tablet design, tool material selection and coating.
Because sticking and picking are such universal problems in the pharmaceutical industry, I Holland invested in a two-year research program to create a predictive model that could be used to reduce downtime and ultimately costs.
The model comprises data on a range of parameters including surface chemistry, temperature, humidity, size of the granule, and whether it is elastic or plastic, to provide expedited guidance to the tablet producer. TSAR≈Predict gives a predicted particle adhesion force against each of the PharmaCote anti-stick coatings in I Holland's range. This eliminates the need to carry out expensive in-the-field testing, which is time-consuming and requires the tablet manufacturer to take time out of production to run trials with coated punches.
I Holland also examined the tablet profile. The type of profile required is influenced by several factors: the granule, embossing requirements, coating process, packaging and the company's branding. If the design is heavily embossed with a lot of characters, it is important to avoid tablet profiles with a deep cup, such as a ball or pill. Deep cup profiles can cause a softer core in the tablet which can, in turn, lead to sticking. It will also reduce the available space for the embossing itself, while the use of a profile that is shallower, with a reduced cup depth, will allow for a larger embossing area.
25% increase in production
I Holland created new designs for Novartis, which included anti-picking features. Together with results from the TSAR≈Predict model—which selected the use of I Holland's PharmaCote®CN+ surface-engineered anti-stick coating—new upper and lower punches were provided and implemented in production.
For the punches, PharmaCote®CN+ (Chromium Nitride Plus) coating was applied to the tooling by using an electron beam process. This process aims to provide a smooth and defect-free method of applying a PVD coating as it does not create droplets during the atomization process.The atomic particles are attracted to the tooling, leaving an even surface that is far less susceptible to breakaway defects.
Benefits were immediate upon implementation by Novartis. From the first trial of the new design and tooling coating, the sticking/picking issues were resolved, resulting in a 25% increase in production. This was achieved over a five-day work week, with reduced hours, resulting in a full day's production time saved.
Prior to approaching I Holland, four batches of the tablet were produced during a six-day work week. This included the extra time required for cleaning and maintenance due to the original sticking/picking problem. Once I Holland's improvements were adopted, a further batch was produced in the same time-period, with a total of five batches manufactured each week, without the need to stop production.
The right coatings and an effective tooling specification helped to prevent a sticky formulation from adhering to the punch tip faces in tablet production.With the immediate results, Novartis is now looking at further products to improve production and reduce downtime.