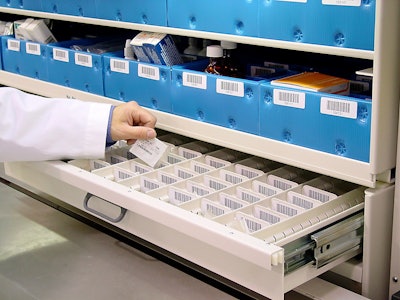 With more than 500 clinics—and 11 hospitals, each of which contains a pharmacy—the distribution of acute care and medications is critical for the UNC Health Care system, which is owned by the state of North Carolina, and served by the UNC Shared Services Center (SSC).
SSC's process of integrating and automating patient medication delivery continues to evolve. One key aspect of the process involves its ongoing work with ARxIUM, a developer of pharmacy automation, workflow and consulting services.
"We've had a relationship with ARxIUM since 2012 when the products were owned by the AmerisourceBergen Technology Group," says Mark Lyons, R.Ph., MS/Executive Director—Integrated Pharmacy Supply Chain, UNC Health Care System.
"After they transitioned ownership to ARxIUM, we continued to partner with them on various beta software projects since they were willing to create custom solutions for UNC Health Care.Ultimately, we re-affirmed our partnership after a significant survey of competing companies due to the close collaboration we have with the ARxIUM team, and the continuous improvement cycles [to which] they have committed," he explains.
The expanded partnership between the two companies includes the installation of ARxIUM's pharmacy inventory management software, RxWorks Pro, and high-density inventory storage, FastFind carousels, to better serve pharmacies in the health system's network.
In the next six months, UNC Health Care plans to add FastFind carousel systems at the SSC and at UNC REX Healthcare. Lyons says, "As equipment ages out at other facilities we'll look at the current technology and decide whether it makes sense to have them adopt RxWorks Pro."
FastFind uses a pharmacy's vertical height to increase the number of items stored in the same footprint by up to 60%. The carousel provides barcode scanning, pick-to-light technology and a drug database to enhance patient safety. It also permits medication purchases to replenish inventories. Lyons notes that the SSC's previous process did not allow for barcode verification.
"The ARxIUM carousels will improve our ability to ensure the right medication is placed in the correct package for delivery," says Lyons. "In addition, the carousels will decrease the amount of wasted movement throughout the distribution center." Previously, those functions were handled by "pharmacy technicians walking the shelves hunting and gathering medications based on paper requisitions," he adds.
RxWorks Pro's integrated, web-based ordering serves as an application to manage medication fulfillment of satellite and clinic pharmacy sites. Its business intelligence feature includes customizable dashboards and reporting options that offer better management of medication inventories and real-time response to pharmacy demands. The software interoperates with enterprise platforms and other manufacturers' pharmacy systems and will connect with the FastFind carousels to manage medication supplies.
Lyons adds, "Servicing more than 500 locations from the SSC requires a flexible inventory management platform that can handle the different needs of each location. RxWorks Pro allows us to charge locations based on the unique needs of that location's price type."
The new applications and equipment will complement ARxIUM's OptiFill, which the SSC has used for high-volume medication fulfillment for about the past five years.
How does UNC Health Care economically justify these systems? "We performed an assessment of our staffing and inventory levels at all facilities with and without centralizing our inventory. We found a significant savings through decreasing redundant inventory and centralizing high-volume activities," Lyons says.
While some of these systems have yet to be implemented, he points out that the UNC team "is excited about the change and looking forward to making our process more efficient," notingthe changes will be transparent to patients.
"We selected ARxIUM to expand our Shared Services Center because we rely upon their team to provide custom-configured timely solutions," says Rowell Daniels, System VP, Pharmacy at UNC Health Care System. "Our ongoing partnership has been a collaborative effort that is focused on developing technologies and integrating systems that adapt to our needs. ARxIUM's systems have the ability to manage complex pharmacy situations to improve our cost savings and productivity."
Companies in this article