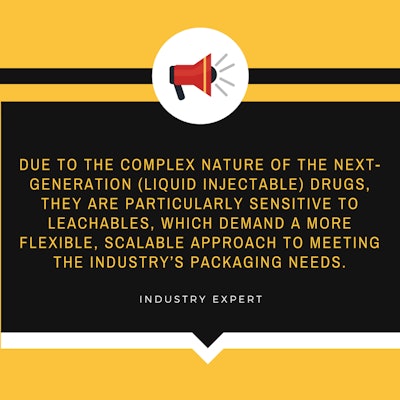 In the global pharmaceutical industry, the efficient transport of drugs not only depends on the means of storage and mobility but primarily on the packaging of the drug. However, there are a few factors common to pharmaceutical packaging irrespective of the product's classification.
The packaging standard required in the pharmaceutical industry is superior to other industries because pharma packagers need to maintain product standards and quality, which includes the requirements of uniformity, purity, side effects, shelf life, safety, integrity, and efficiency, among others.
Manufacturers must possess an in-depth understanding of every characteristic of the product, including formulation, dosage form, physical and chemical properties. That information needs to be amalgamated with manufacturing, packaging, marketing, distribution, product end use and profitability projections.
Here are some basic factors to account for in the pharmaceutical packaging industry:
• Uniformity. Refers to the quantity between and within batches of products encompassing the impurities, excipients and ingredients. The term refers to minimizing variation between the items or doses, etc. However, variations in uniformity post storage are related to the changes in the drug/product, environment or the packing of the product. Uniformity is the foundation of batch processing and manufacturing, and packaging plays a major role.
• Purity. Refers not only to the percentage of the active ingredient but also the level of impurities. Similar to how innovative analytical techniques have made the identification of impurities practical, their elimination has been aided by modern chemical techniques. Pharma packaging helps prevent the drug from exposure to impurities.
• Integrity. Ensures the package contains the correct product quantity and quality, and that the package meets necessary specifications and is properly labeled. Integrity is all about controlling efficient production and ensuring product quality. Stringent norms against counterfeiting further increase the importance of integrity.
Minimizing side effects and maintening shelf life are important factors in the process of manufacturing packaging for pharmaceuticals. The type, size, chemical properties, physical properties, material, etc., all contribute in determining effective packaging. Additional pharmaceutical packaging factors include the following:
• Dosage form
• Administration mode
• Product dispensing mode
• Distribution channels and marketing
• Product presentation/identification/information
• Product protection
• Product hazards
• Climatic factors, including temperature, moisture, etc.
• Product aging and contamination
• Protection against biological hazards such as insects, animals, adulteration, tampering, etc.
Looking ahead
The packaging of pharma products is a process affected by multiple factors but in turn has effects on the product. The pharmaceutical packaging equipment was valued at more than $5 billion in 2016 and is anticipated to cross $7.5 billion by 2022, according to a Market Data Forecast report.
Packaging is faced with unique packaging challenges and equipment demand, especially the increase in demand for biological drug formulations. The complex nature of the next-generation (liquid injectables) drugs—that are sensitive to leachables, pose a major hurdle. However, with the industry's ongoing technological advancements, these factors will present a less hectic task and lessen the burden to manufacturers.
Editor's note: This article was edited from a story contributed by MarketDataForecast, based on their recent report, "Global Pharmaceutical Packaging Equipment Market."