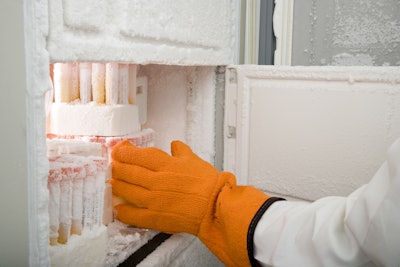 The subject of temperature excursions comes up naturally at most "cold chain" industry events. That was certainly the case at the Global Forum 15th Annual Temperature Controlled Life Science Supply Chains where several presenters discussed managing excursions.
One example was Chris J. Anderson's Sept. 28 breakfast briefing, "USP<1079> and the Evolution of Good Distribution Processes: Enhancing Quality Assured Processes to Maintain Product Quality and Supply Chain Integrity through Advanced Risk Mitigation Techniques."
Anderson, Director, Quality Systems, Cardinal Health, and USP Packaging and Distribution Expert Committee Member, USP <1079> Sub-Committee Co-Chair, U.S. Pharmacopeia, noted that the guidance is evolving to make it more effective without overcomplicating or alarming supply chain logistics firms, 3PLs, etc.
"There needs to be better education on all these processes so we can better maintain the efficacy of temperature-sensitive medications, especially when we consider biologics and combination products," Anderson said. "We need to stop freezing vaccines and baking biologic products." He pointed to the following concerning examples:
• Influenza vaccines frozen during distribution, causing many to blame pharmacists even though they likely had no idea anything was wrong with the medications.
• Inadequate refrigeration equipment that provides no temperature readings—or perhaps inaccurate readings—much less an alarm to indicate that product temperatures are moving beyond their appropriate range.
• Recent hurricanes point to the need for pharmacies and medical facilities to have back-up generators, as well as fuel and coolant reserves to continue to function during power outages, flooding or other natural disasters. Transport vehicles also require the same state of readiness.
Anderson said risk and mitigation strategies are imperative to manage product excursions throughout the supply chain.
Baxter recall
Anderson's advice was timely, particularly given the early October announcement by Baxter International Inc. that "it is voluntarily recalling one shipment from a single lot of INTRALIPID 20% IV Fat Emulsion, 100 mL, distributed between 8/11/17 and 8/31/17 to hospitals and healthcare providers in the U.S., to the user level."
Baxter noted, "The product has been exposed to subfreezing temperatures during transit to a distribution facility. The subfreezing temperature is outside of the acceptable storage range listed on the product labeling. Other shipments of this lot are not affected by this issue. If accidentally frozen, INTRALIPID 20% IV Fat Emulsion should not be used. When subjected to freezing, the emulsion droplets will increase in size, forming aggregates that can block pulmonary circulation and lead to serious adverse health consequences that can be life-threatening."
The company explained, "INTRALIPID 20% IV Fat Emulsion is a prescription product indicated as a source of calories and essential fatty acids for patients requiring parenteral nutrition for extended periods of times. The product is packaged in 100 mL bags.
"Baxter has informed customers affected by this particular shipment to locate and remove all affected product. Recalled product should be returned to Baxter for credit by contacting Baxter Healthcare Center for Service at 888-229-0001, Monday through Friday, between 7 a.m. and 6 p.m. Central Time."
More resources
• ScienceDirect's "Temperature excursion management: A novel approach of a quality system in pharmaceutical industry."
• Parenteral Drug Assn.'s "Technical Report No. 58, Risk Management for Temperature-Controlled Distribution."
• Health Products Regulatory Authority's "Guide to Control and Monitoring of Storage and Transportation Temperature Conditions for Medicinal Products and Active Substances."
Companies in this article