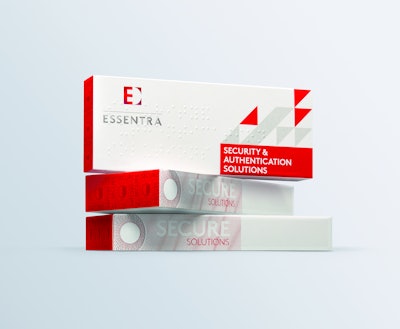 According to estimates released by the U.S. FDA, one in 10 pharmaceutical drugs are counterfeited. While this translates to an estimated 1% penetration rate in developed countries in Europe and North America, the figure can reach up to 30% within Africa and the Far East. Alarmingly, according to the World Health Organization (WHO), in 2011 64% of all antimalarial drugs in Nigeria were counterfeit.
Packaging and authentication manufacturers advocate applying multiple measures to provide enhanced security, including tamper-verification solutions, security features, and pre-serialization measures. Tamper-verification solutions are vital as they instantly allow the consumer to identify if the drug they are going to consume has been previously opened or interfered with, providing a first layer of security. Such products could take the form of a label that leaves a void message or a carton that is glued closed.
There are three types of labels that Essentra, a global provider of specialist packaging and authentication, recommends as a part of an expanded portfolio fiber tear labels, void release labels and frangible film labels.
Fiber tear labels provide a clear visual indicator that the pack has been opened, as they irreversibly damage both the print and carton board to which the labels are affixed. When the labels are removed, a ripped appearance remains, even on varnished coatings.
Similarly, void release labels provide a clear visual cue that is more aesthetically pleasing than the former, leaving behind a void message or specifically designed pattern on the carton. On a more sophisticated level, frangible film labels use a specially engineered substrate that disintegrates the label when consumers attempt to remove it from the carton board.
Security features can provide an additional layer of protection. Though they may not be mandated by governments, they can help brands further protect themselves from counterfeiters. Such features are often classed into three categories—overt, covert, and forensic.
Overt technologies enable instant authentication through visual inspection, and most commonly feature holographic devices and color-shift inks. Covert solutions, such as microtext and microscopic tagging, rely on technologies such as infra-red and ultra-violet inks, and are difficult to detect without specialty equipment. Forensic features, which include molecular markers and biological tracers, offer a further layer of authentication and can be identified only with laboratory equipment.
Serialization
Serialization is the system of tracking, tracing and verifying products via unique—usually item-level—identification codes. These codes reveal a complete history of the drug and can take the form of a linear barcode, 2D barcode or alpha-numeric combination. Irrespective of the format, the code will convey key information about the product contained in the box: for example, the Falsified Medicines Directive states that manufacturers are required to print the drug's product code and serial code of the unique identifier on the packaging in human-readable format. These data elements allow for confirmation of the integrity of the medicine and help to ensure that the product patients are taking is reliable.
However, there remain several challenges for pharmaceutical companies to overcome to implement an efficient serialization system. First, a uniform approach must be put in place that meets the requirements at each level of the supply chain. This may require existing suppliers to invest in new IT systems, databases and business structures, which can be both expensive and administratively challenging.
Also, the creation of the required serial codes themselves will call for significant expenditure, particularly when additional elements, such as aggregation, are included. The more complex the structure of the serial codes, the more difficult standardization will be across all companies in the supply chain.
With so many different codes and suppliers to manage, the key to the implementation of a successful serialization system is data management and the control of data integrity. The process of track and trace will mean that every point within the supply chain will have to carry out a "stop-check," resulting in the collection of a large amount of data.
With each individual unit having a unique identifying code, once printed, this must be recorded and tracked through the drug's journey from supplier to consumer. Given this pre-serialization process is highly complex and often outsourced, companies and governments must work together to create an effective data management system.
It is clear that pharmaceutical companies and governments must collaborate to protect consumers from the threat of counterfeiters. Implementing various levels of solutions, including both track-and-trace serialization and tamper-verification features, pharmaceutical companies can confirm that their products are authentic and have not been altered by counterfeiters.
Rupert Taylor is the Global Category Manager for Healthcare and Personal Care at Essentra. Essentra manufactures and distributes products for a cross section of global industries.
Companies in this article