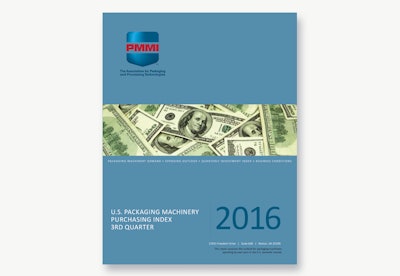 Respondents within the pharmaceutical/medical devices segment to a recent survey projected spending for packaging machinery to remain steady. Projections for investments in Q3 2016 over Q3 2015 show an index of 71.5, 4.9 points over the total market and 21.5 points above the midpoint. Among respondents in this industry, 14% indicated an expected increase in investments compared to Q3 2015.
These results come from a new downloadable report from PMMI, The Association for Packaging and Processing Technologies. The report provides member companies with insight into how current business conditions and the current economic outlook are affecting CPG's packaging machinery purchase decisions.
The findings were derived through an online survey, conducted during July 2016, with a representative sample of 141 decision‐makers throughout the major industry segments of the U.S. market.
The packaging machinery investment index, based on U.S. pharmaceutical/medical devices companies' responses for Q3 2016 over Q2 2016, shows an index of 57.2, 5.6 points over the total market. This is 15 points lower than last quarter. Results showed 76% expect to maintain initially scheduled projects for Q3.
Respondents indicated purchasing decisions for 2017will likely increase at an index of 66.7, 1.6 points below the total market index. If conditions continue, 43% of respondents in this industry expect an increase in investments and 58% expect to maintain purchasing decisions.
According to PMMI's Q3 2016 Quarterly Economic Outlook Report, U.S. Pharmaceutical and Medical Devices production rose just 0.7% over the past year. Production will generally rise through at least 2018 with the pace of rise quickening through the third quarter of 2016.
Within this market, medical equipment production is the stronger segment. Production in the past 12 months is up just 0.3%, but in the most recent three months, growth is a faster 5.2%, indicating momentum is building in this market segment. By contrast, U.S. pharmaceutical and medicine production in the most recent quarter is down 1.0% from the year‐ago level and shrinking.
According to the 2016 PMMI State of the Industry Report, pharmaceutical/medical devices manufacturers account for approximately eight percent of annual U.S. packaging machinery shipments.
Broader market segments
Data gathered from responses of U.S. packaging machinery end users across all major market segments, showed packaging machinery investments for the 3rd Quarter of 2016 indicated continued growth as indexes remain above the midpoint of 50.
Data showed 48% of those who responded indicated spending projections showed signs of remaining the same in Q3 2016 compared to last year. A total of 43% projected that spending would increase for Q3 2016 vs Q3 2015. Nine percent indicated that a possible decrease, delay, or cancellation of spending might occur, an increase of 0.9 points from last quarter.
For Q3 2016 vs. Q2 2015, 61% of respondents expect investments in packaging machinery to remain unchanged. Also, 32% indicated investments will likely increase, down 8.4 percentage points from last quarter. Initially scheduled projects are expected to stay on track in Q3 2016, as indicated by 59% of respondents; 29% indicated an increase, while 11% indicated a delay, decrease, or cancellation of initial projects.
Current economic conditions should have a positive effect on purchasing decisions for 2017, with 50% reporting that their purchasing decisions will likely remain unchanged. The findings showed 43% indicated a possible increase, and six percent suggested a possible decrease, delay, or cancellation of packaging machinery spending. The percentage of respondents who reported a possible decrease of spending is down 1.9 points from last quarter.
Companies in this article