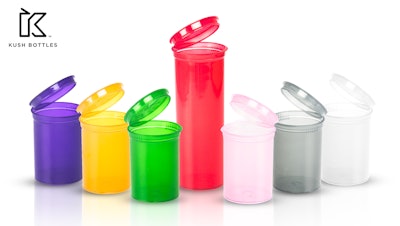 Medical marijuana (also known as cannabis) may still be a divisive issue among some communities, but as research continues to demonstrate efficacy in treating diseases and symptoms, the market shows undeniable growth. The 2015 Marijuana Business Factbook (a division of Anne Holland Ventures, Inc.) estimates that the medical cannabis market alone would be worth $2.4 to $2.5 billion in 2016, and expects it to reach between $3.3 and $3.8 billion by 2019.
Now legal in 25 states and the District of Columbia, the medical cannabis market is attracting established packaging companies as well as startups like Kush Bottles, the first publicly traded packaging supplier focused on the cannabis industry.
Variances by state
While there is nothing illegal about producing the packaging itself and it can be shipped to any state, compliance presents a challenge for packaging manufacturers. All cannabis production, packaging and sales must occur within state lines, and is further complicated by frequently changing rules, specific to each state where medical cannabis is legal.
J.L. Clark is an established packaging manufacturer with a 112-year history in decorative tins, metal lithography and injection-molded plastic packaging (clients include Burt's Bees and McCormick). Referring to cannabis packaging, "The market is unstable and inconsistent from state to state or even county to county. It's quite different from other markets we participate in," says Phil Baerenwald, President at J.L. Clark.
"Products move quickly and the market fluctuates," says Nicholas Kovacevich, Co-Founder and CEO of Kush Bottles. "We have to tailor our product mixes to different states, and stay agile to change designs and meet new regulations quickly."
Packaging materials
There's a lot to think about when it comes to packaging. Beyond the traditional dried flower buds ("flower"), there are a multitude of cannabis products, such as oils, extracts, and edible products. Depending on the product, packaging is usually composed of plastic, glass, paper or metal. The FDA does not regulate the packaging used for cannabis directly, however, they do regulate the materials used in the manufacturing process.
As is the case with many medical products, one of the most important things about packaging is child-resistance. Appearance, labeling and distribution channel regulations are state-specific as well, which have an effect on what packaging materials a customer selects.
The entity purchasing packaging may be a grower/processor or retailer, depending on the state. For example,
Colorado maintains its "70/30 Rule," a vertical integration model requiring that 70% of a retailer's product is grown (and consequently packaged) in-house on the medical side. There are no vertical integration requirements on the retail side.

In Washington, a grower licensee cannot be a retailer. Products are packaged at the grower or processor level in tamper-evident packaging, not to be opened until they are purchased from the retail shelf.
Barrier bags are often used for cannabis packaging, however, there are special nuances depending on the market. In Colorado and Washington, barrier bags can be considered a child-resistant form of packaging if used for a single-serving item and designed without easy tear notches. If the serving size is greater than one, then another form of reclosable child-resistant packaging must be used. Kush Bottles supplies barrier bags for Colorado and Washington, which are often pre-printed with state-specific use warnings.
So how do packaging suppliers keep up with such differing rules? They visit trade shows and events, talk with customers and industry professionals and meet with state regulators. Kush Bottles' partners in Colorado own and operate arguably the most compliant cannabis production facility and retail store in the country, where state regulators and officials often visit for educational and training purposes.
Where other medical products can have a several-year shelf life, medical cannabis is typically consumed quickly after sale, so packaging does not need to provide as long of a shelf life. There are, however, quite a few considerations for packaging materials, including:
Customers place a high value on packaging that is airtight, both for product freshness and discreteness (as some products have strong odors).

Some states require opaque containers, while others allow for transparent packaging. In markets where packaging is done at the grower/processor level, businesses prefer clear packaging if allowed, since it gives potential consumers an opportunity to see the product prior to making a purchase.

Even when not required, many in the industry opt for child-resistant containers in hopes of limiting their liability.

Where packaging is performed at the retail site, bulk cannabis products are often kept in glass jars that are opened and closed frequently for patients. Some retailers in this case purchase humidity packs to keep products fresh.
Suppliers must also take into account the nature of the packaging process itself. Ron Axon, Director of R&D and Plastics New Business Development at J.L. Clark, explains, "The inability to take product across state lines also means that there are many filling locations. We keep designs tailored to less or non-automated filling because it's not your typical fill line process." Even when a brand of product is sold in multiple states, it is actually a licensee/franchise model where the brand in one state provides the recipe and packaging so the process can be replicated at multiple sites. "It's often a manual process, with manual counting, baking, or extraction processes," he says.
Sustainability
Kovacevich sees a push for sustainable packaging, but it is difficult given the financial constraints. "The industry definitely wants to be more green. The tradeoff is cost. Bootstrappers care about the environment, but can't always afford those products," he says. Kush Bottles has established a recycling program in Colorado for pop-top containers, and some customers try to reduce the surface area on barrier bags when possible.
Recyclable paperboard options are becoming available, and reusable materials like glass and metal are popular among those who can afford a higher price point. With its long history, J.L. Clark takes advantage of its large base of existing metal bodies (that don't require tooling), producing metal cannabis containers with the flexibility of decorated plastic child-resistant lids.
Branding
Though it is a medical product, patients have many choices. E-commerce may be booming for consumer goods, but cannabis purchases must occur at brick and mortar stores. Branding on the package—which shares real estate with product labels or state-specific warnings—is important even to smaller companies.
"The desire for custom packaging is high. Customers are looking for that exclusivity, but don't have the volume when they're starting out. It's a challenge specific to emerging markets," says Baerenwald. Usually customers start with off-the-shelf packaging and then move to customization when they have more stability. Experts at both J.L. Clark and Kush Bottles note that some custom packaging eventually becomes an off-the-shelf option.
J.L. Clark preserves brand identity, adding lithography, embossing and unique child-resistant closures to its metal tins. Additionally, the company is developing a version of its child-resistant and senior-friendly ezSqueeze plastic packaging for the cannabis market, designed for manual fill operations.
Kush Bottles, focused solely on the cannabis industry, looks for ways to make reputable packaging unique to the industry. The company recently launched an online tool that allows customers to design custom-branded packaging using their own logos in minutes. Customers select from a range of packaging, such as barrier bags, plastic tubes and concentrate jars, and choose features like the materials, finish and closure type. Most of these products can be delivered with a label already applied, saving their customers time and money.
Current financial climate
At present, the industry is set up for small owners and operators. Operations and sales must take place within individual states, and retail licenses are only granted to state residents, which is not desirable for large companies.
A major hurdle for the industry is the lack of credit. Despite legalization, federally regulated banks and credit card companies steer clear of the industry. "The customers typically stay small and local. We handle our own deliveries and collect in cash," says Kovacevich. This means packaging suppliers must walk a fine line not seen in other industries. They have to keep adequate inventory to supply packaging daily or weekly (and keep up on changing laws), but can't engage in long-term agreements with customers.
Another harsh reality is that the federal government can still shut down dispensaries, growers and processors. Kovacevich says, "Unfortunately, they may not be around in six months. We have to stay flexible and focused on customer service."
But the industry has serious potential. Kush Bottles is one of the companies leading the way in terms of acceptance outside of the cannabis industry. "Not all companies have been above board, which tarnished the reputation of the industry as a whole," notes Kovacevich. "But being an ancillary business that doesn't 'touch the plant,' and having real revenues, makes Kush Bottles one of the few cannabis companies that are institutionally investable." And the white-collar interest is only growing, as the market expands and as more research is published about the safety and medicinal potential of cannabis products.
The flow of cash and lack of credit has spawned some startups such as Tokken, Kind Financial and Hypur that aim to bridge the gap between banks and dispensaries with tracking software or payment kiosks that provide the industry with digital banking services.
The opportunity
Future growth of medical cannabis markets depends on how the legalization laws unfold in each state. Illinois is home to a major metropolis and would seem like a large market for medical cannabis. But the requirements to obtain a medical marijuana card are so stringent that, compared to other markets, it produces less revenue for businesses and the state. By contrast, Nevada's medical program takes doctor recommendations from any state, which works particularly well for patient access and tax revenue because of the state's tourism.
Kovacevich notes that not all electoral defeats should be taken as a bad sign. A 2015 medical marijuana initiative in Ohio (Issue 3) was shot down, but he points out that the law was written in a way that would only benefit a specific set of groups, creating an oligopoly. "We can predict how big of a market it will be. You really have to look at how the bill is written," he says. (As of June 2016, some forms of medical marijuana were legalized in Ohio under House Bill 523).
Though not enforced yet, California's recent Medical Marijuana Regulation and Safety Act mandates that distributors and transporters obtain licenses as well, opening the door for third-party logistics providers to get involved in the cannabis business. This could potentially bring more efficiency (and product choice) to the market.
Looking ahead, packaging suppliers are hoping to differentiate themselves by developing new cannabis-specific products while navigating the ever-changing regulations. Like any industry, customer service plays a big role in attracting and keeping business. "Ultimately, it's about providing our customers with compliant solutions that meet their budget, while optimizing their ability to market their brand," Kovacevich says.
Read about the DEA's August 2016 announcement on marijuana's schedule 1 stance.>>>
Companies in this article