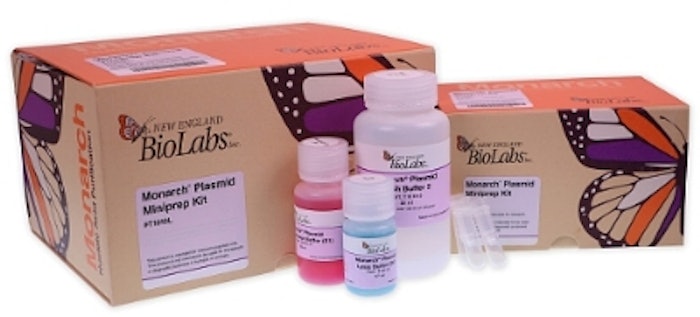 New England Biolabs, Inc. (NEB®) works in the discovery and production of enzymes for molecular biology applications and has now released its Monarch Nucleic Acid Purification Kits. Monarch kits are available for gel extraction, plasmid miniprep and reaction cleanup.
This new family of products uses a unique column design, as well as optimized protocols and buffer systems for robust DNA cleanup and purification of plasmid DNA.
The new products use said to use significantly less plastic and recyclable packaging, while delivering best-in-class performance for nucleic acid purification. Aligned with NEB's commitment to promoting sustainable ecological practices, Monarch kits are purposefully designed to minimize environmental impact.
"One of NEB's founding principles is to develop state-of-the-art molecular biology reagents, while being mindful of their environmental impact," says John DeMartino, Associate Director of Business Development at NEB. "Nucleic acid purification techniques are notorious for producing large amounts of plastic waste. This was a concern we wished to address when designing our Monarch kits. Our kits use up to 44 percent less plastic and are packaged using responsibly-sourced, recyclable materials, which can help pave the way to a greener laboratory."
In addition to the environmental considerations, Monarch kits also offer several performance advantages. These include a column configuration designed to eliminate buffer retention and carryover contamination. This design also allows for elution in smaller volumes, which facilitates direct use in downstream applications.
"Inefficient column design that retains buffer can introduce unwanted carryover contamination, such as salts, into your purified sample. This can significantly limit the efficiency of many downstream applications, such as ligation and restriction digestion," notes Danielle Freedman, Associate Product Marketing Manager at NEB. "Monarch columns do not retain buffer, and therefore users can be confident that their DNA will perform as expected."